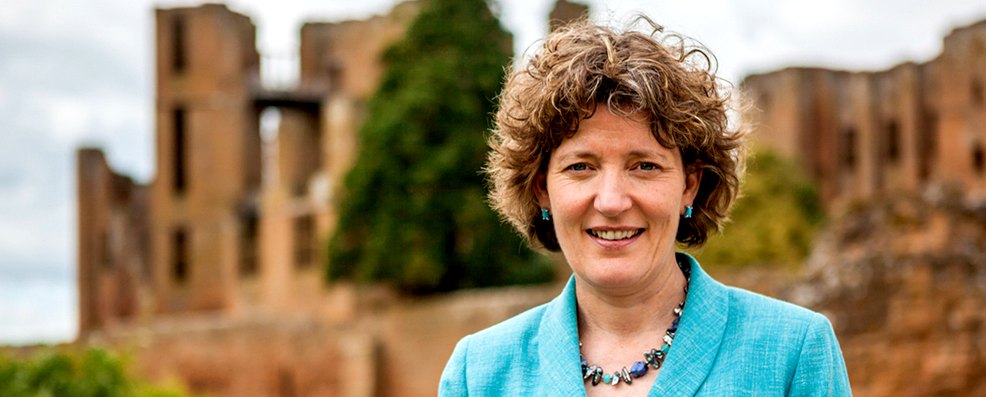 CHIEF EXECUTIVE - Kate Mavor is the Chief Executive of English Heritage. She was formerly the Chief Executive of the National Trust for Scotland, where she arrived at a moment of financial crisis for the Trust. During her tenure there, she was instrumental in transforming the charity's fortunes, introducing a five-year-plan to restore its financial stability and giving it a new sense of purpose.

"It is a privilege to lead English Heritage on the first stage of its new journey as a charity. English Heritage looks after sites where momentous historic events took place. Individually and collectively these precious places tell a remarkable story."

Kate was previously Chief Executive of the UK interpreting service, Language Line, where she led a management buyout, and Chief Executive of the youth volunteering charity, Project Scotland. Her early career was spent in the book publishing and educational tourism industries in London. She was educated at Oxford University.
20 MARCH 2017

As a registered charity, English Heritage are governed by a board of trustees who delegate day-to-day responsibility for the running of the organisation to a senior management team. Sir Tim Laurence is Chairman of the board of trustees and Kate Mavor is their Chief Executive.
English Heritage (officially the English Heritage Trust) is a registered charity that manages the National Heritage Collection. This comprises over 400 of England's historic buildings, monuments and sites spanning more than 5,000 years of history. Within its portfolio are Stonehenge, Dover Castle, Tintagel Castle and the best preserved parts of Hadrian's Wall. English Heritage also manages the London Blue Plaques scheme, which links influential historical figures to particular buildings.

When originally formed in 1983, English Heritage was the operating name of an executive non-departmental public body of the British Government, officially titled the Historic Buildings and Monuments Commission for England, that ran the national system of heritage protection and managed a range of historic properties. It was created to combine the roles of existing bodies that had emerged from a long period of state involvement in heritage protection. In 1999 the organisation merged with the Royal Commission on the Historical Monuments of England and the National Monuments Record, bringing together resources for the identification and survey of England's historic environment.

On 1 April 2015, English Heritage was divided into two parts: Historic England, which inherited the statutory and protection functions of the old organisation, and the new English Heritage Trust, a charity that would operate the historic properties, and which took on the English Heritage operating name and logo. The British government gave the new charity an £80 million grant to help establish it as an independent trust, although the historic properties remained in the ownership of the state.
TRUSTEES

The collective role of the trustees is to provide strategic direction and constructive challenge to ensure English Heritage delivers its goals and objectives and is managed effectively.

Alex Balfour
Vicky Barnsley (Howard), OBE
Charles Gurassa
Sukie Hemming
Professor Ronald Hutton
Vice Admiral Sir Tim Laurence KCVO, CB, ADC
Sir Laurie Magnus
Ian McCaig
Malcolm Reading
Sarah Staniforth, CBE
James Twining
Kate James-Weed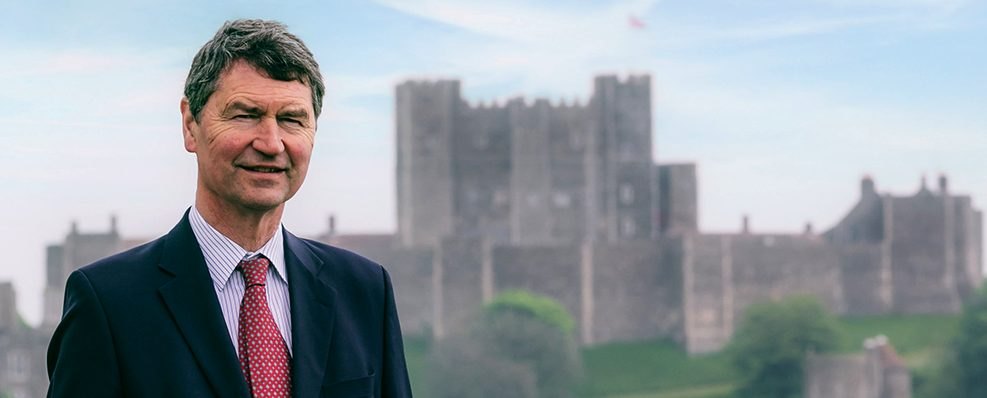 CHAIRMAN - Sir Tim Laurence is now (2017) Chairman of English Heritage, having previously served for four years as a Commissioner. A career naval officer, his time in uniform ended after serving for three years as Chief Executive in charge of the Defence Estate, with responsibility for some 700 listed buildings, 1200 scheduled monuments and 170 Sites of Special Scientific Interest.

"This is a historic moment for us. With our new freedom as a charity, independent of government, our ability to engage with millions of people is now greatly strengthened. And our ambition is matched only by our determination to succeed."

Since then he has pursued his enthusiasm for regeneration as Chairman of two regeneration companies; for major projects, as Chairman of the Major Projects Association; and for heritage through his involvement with English Heritage and the HMS Victory Preservation Company. He is also a senior advisor to PA Consulting, a member of the First Great Western Advisory Board, a Trustee of RNLI and the naval representative on the Commonwealth War Graves Commission.
CONTACT ENGLISH HERITAGE
English Heritage HQ
The Engine House
Fire Fly Avenue
Swindon SN2 2EH

Legal Department
English Heritage
1 Waterhouse Square
138 - 142 Holborn
London EC1N 2ST
Telephone: 0370 333 1181
Email: customers@english-heritage.org.uk
Website: http://www.english-heritage.org.uk/
THE RURAL SCENE
Funding for essential repairs is not available from the Heritage Lottery Fund for privately owned buildings - no matter how important they may be if they are located in the countryside. That same rules apply to grants from Historic England.
If you own a historic building in the country - you are on your own. Be careful not to get listed or you will be required to comply with reams of regulations and unable to effect repairs without serious legal and planning costs attaching.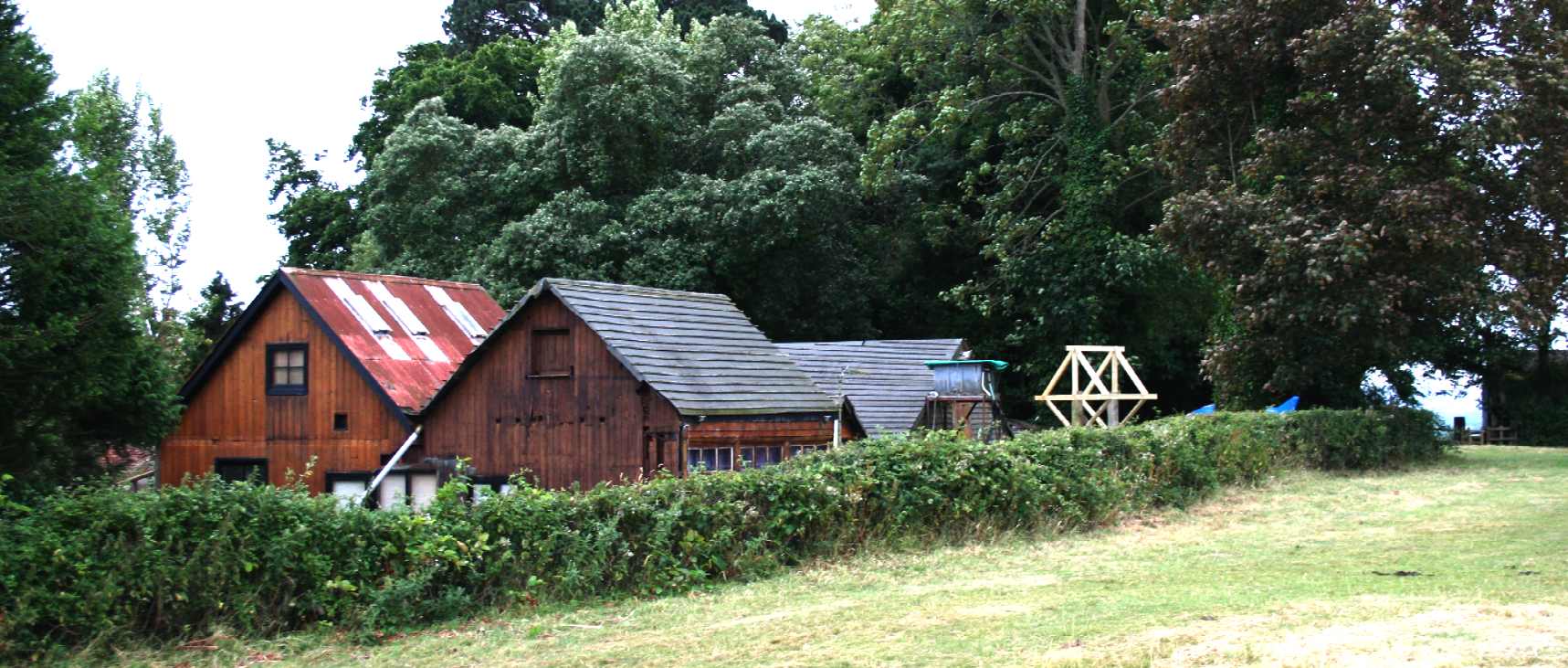 MONUMENT AT RISK - The main generating buildings when in need of a new roof and other repairs. The felt roof was a temporary measure to prevent water ingress, where privately owned historic buildings are not considered to be important enough to warrant help from the Heritage Lottery Fund or Historic England. A third range of the twin gabled building is missing where it is taken down to remove the large gas engine inside, but not returned to the original layout because of World War Two. Planning permission is not required to re-instate as this would constitute a repair, but in any event Permitted Development rights allow up to a 50% percent increase in area if the height of the original building is not exceeded. The Trust is considering full reinstatement, subject to building regulations being waived to enable an authentic reconstruction.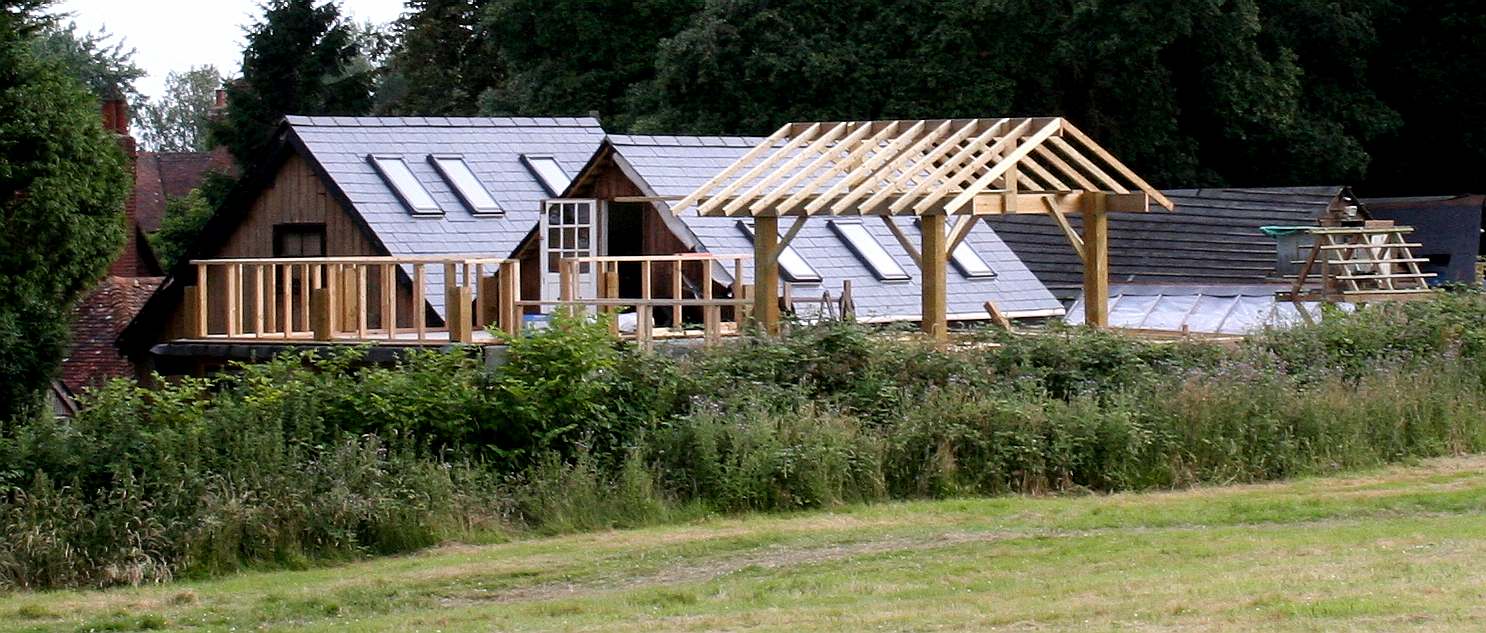 SUMMER 2017 - Over two of the hottest weeks on record, 4 men toiled for eight days in the blazing sun to take off the WWII corrugated iron, temporary felt, replace any damaged or rotten timbers and fit some of the finest slate that we have seen in a long while - with thanks to Ashbrook Roofing Supplies in Derbyshire. Ashbrook Roofing did us a cracking deal on 250x500, 375 x 500 slates and matching ridge tiles to capture the rural industrial element of the building. Thanks Bez. All free issue, with thanks to all of those concerned who put conservation before profit. Copyright © photograph 30 June 2017. You will need the permission of Lime Park Heritage Trust to use this picture. All rights reserved.
LINKS
https://en.wikipedia.org/wiki/English_Heritage
https://www.gov.uk/government/news/the-secretary-of-state-reappoints-chair-of-historic-england
http://www.telegraph.co.uk/news/politics/10229490/English-Heritage-turns-to-banker-as-it-tries-to-become-self-funding.html
https://historicengland.org.uk/
http://www.english-heritage.org.uk/
http://www.sussexmuseums.co.uk/
http://www.museumsassociation.org/
http://www.thekeep.info/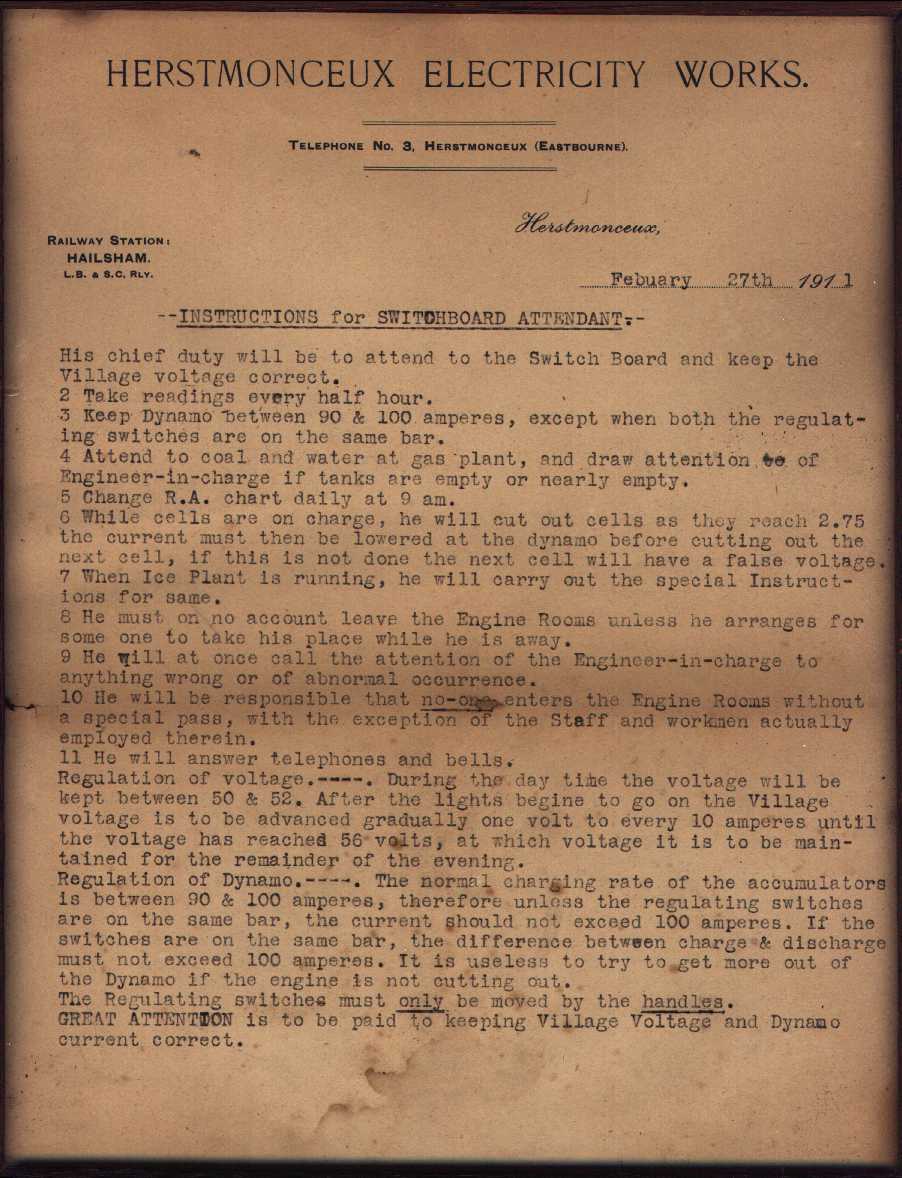 ANTIQUE DOCUMENT - This is an amazingly rare find, a document dated from February of 1911. These are one of a series of instructions to the engineers who were operating the generating machinery in Lime Park. You may notice that in addition to generating electricity for the village, that plant was in situ for making ice. Luxury indeed in 1911.
HERITAGE INDEX A - Z
CAMPBELL HALL - BLUEBIRD ELECTRIC CARS - BE1 - BE2 - BE3 - BE4
GAS ENGINES - COAL CONVERSION, INTERNAL COMBUSTION
OBSERVATORY - HERSTMONCEUX CASTLE
SOLAR LADY - STATUE

The battlefield of Homildon Hill
HOME | A-Z INDEX | MEMBERS | MPS | OFFICERS