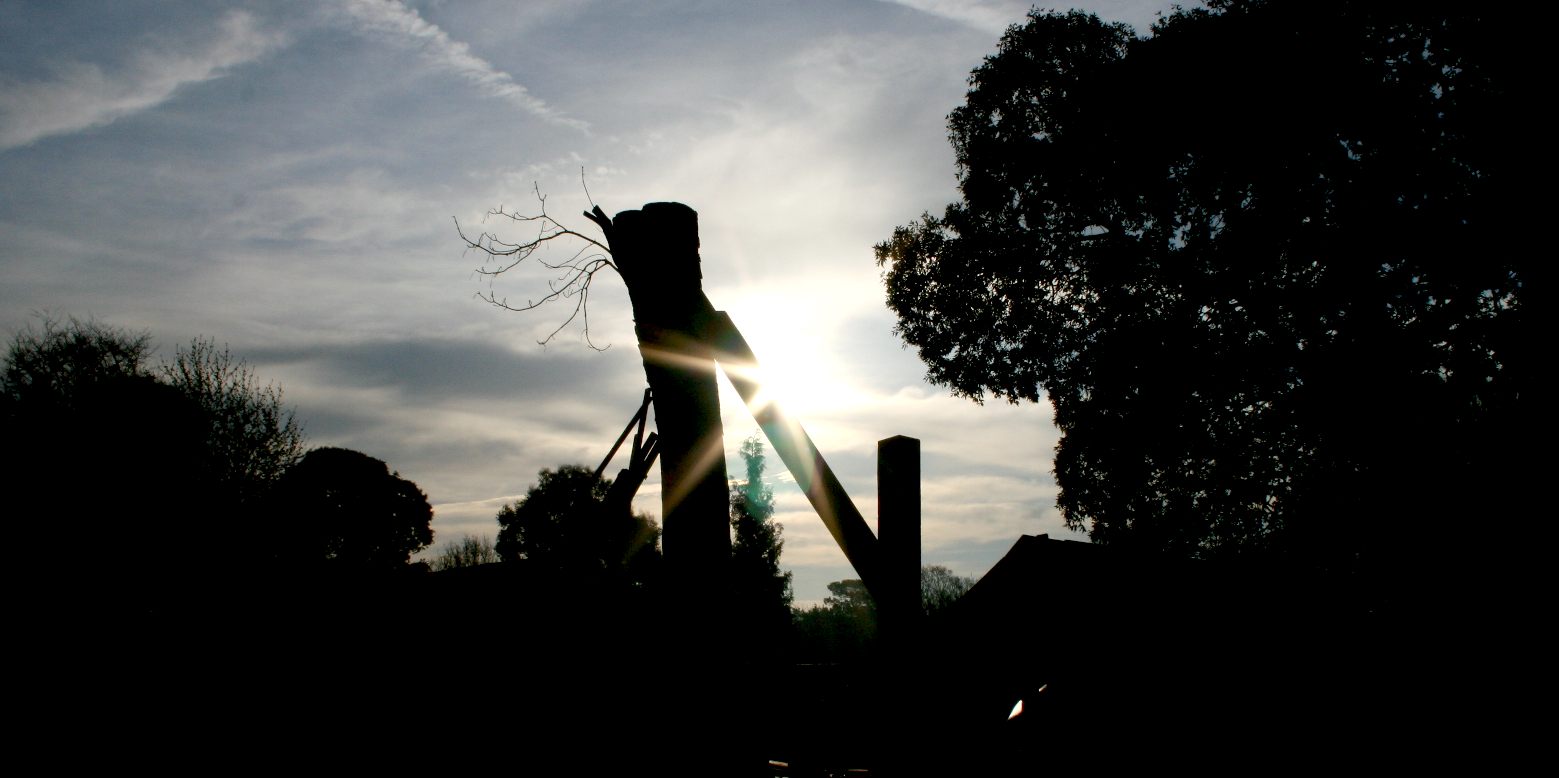 REGENERATION - There are signs of life in that new buds are appearing on the endangered sycamore. This tree is in the grounds of Herstmonceux Museum in Sussex just outside of the Lime Park boundary in no-mans-land - so previously, totally uncared for. As the Trustees love trees and natural surroundings, they have decided to pull out the stops and do what they can Copyright © photograph April 10 2017. You will need the permission of Lime Park Heritage Trust to use this picture. All rights reserved.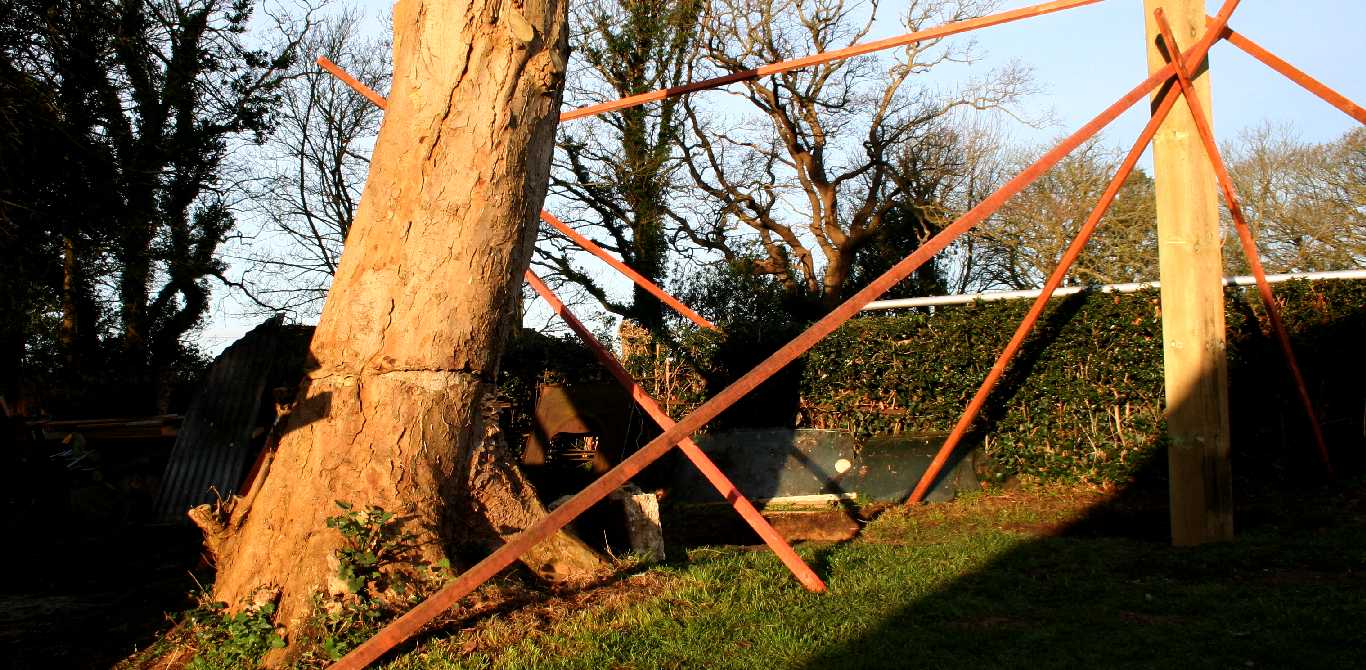 TRUNK - This sycamore is poorly sited on a bank and so may be seen as unstable at its full height. You can also see that a ring of bark had been removed some time ago along with a slice of a portion of the infected trunk - that now appears to be trying to heal itself. Faced with this situation the Trust could not allow this tree to struggle alone for life, without at least giving it a helping hand. The tree could add character to the premises, such that when foliated, it will blend into the countryside. An example of just such a project is seen below as Treetops - a property on the other side of the village of Herstmonceux. The aim here is to use the surrounding area to make a small shed to store a trailer, wheelbarrows and other garden tools - while at the same time incorporating solid ground anchors that can be used to support the sycamore trunk. Such a project is beyond the cost of a typical shed or tree salvage operation, but in this case we are dealing with a museum situation. Copyright © photograph March 2017. You will need the permission of Lime Park Heritage Trust to use this picture. All rights reserved.
ABOUT TREES
It might sound ridiculous to you, but local authorities (Councils in the UK) sometimes require planning applications for larger tree houses if there is a platform included and the platform is over thirty centimeters from the ground. As you might imagine that rules out a lot of scope for creative landscaping.
Our local authority (Wealden District) wrote to several people in the location demanding that a large sycamore tree should be removed as being dangerous to passers by in the adjacent field, even though there is no official footpath nearby. Having failed to force anyone to remove the tree, the Council then refused to use their powers (under Miscellaneous Provisions) to remove the tree themselves, and the reason for that is that they appear to like throwing their weight about, but are not so keen to do the right thing when it might cost them a few bob. You may care to agree that such bully boy tactics are hardly endearing to the electorate - who pay for these officials to be officious with our hard earned wages that are then taxed to high heaven and wasted by un-elected civil servants.
The Lime Park Heritage Trust decided that although the ownership of the ground remains unregistered that they should try and save the sycamore for children to play on/in by first of all reducing the height to a much lower level and then bracing the trunk with stays mounted on reasonably substantial concrete anchors. You can see how this tree was reduced in height to make it safe in the sequence of photographs below.
Our fascination for tree houses and climbing trees is that in our distant past we were tree dwellers. The proof of that little habit is in the design of our hands for brachiating (swinging from branch to branch) and the fact that our coccyx (tail bone is the final segment of the vertebral column) is the vestigial remnant of our reduced tail. All mammals have a tail at some point in their development; in humans it is present for a period of 4 weeks during stages 14 to 22 of human embryogenesis.
It is part of growing up and exploring our natural world for children to want to climb trees - and it is a healthy sport - apart from being a lot of fun. Where the Trust have contained this particular tree so that it can no longer cause any harm to the historic elements of the nearby generating buildings, it would be a great shame if the tree was not used to provide hours of fun for youngsters who are at some point in time bound to visit the Museum with their parents.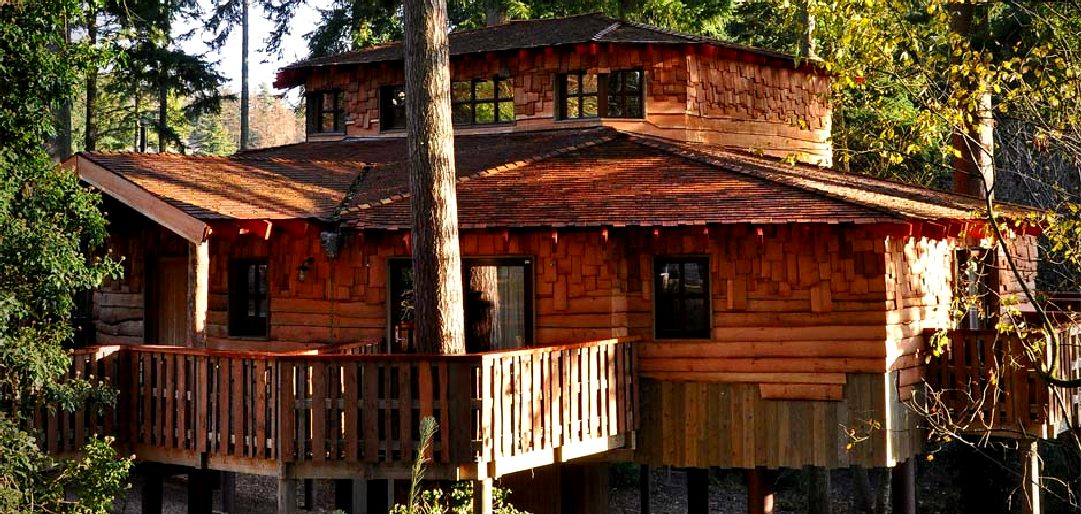 CENTRE PARKS - Not so much a tree house as a two-storey house built on stilts surrounded by trees. However you look at it, it's a great way to escape from civilization for a while, complete with a hot tub and play den. But why bother with TV? When you are playing Tarzan and Jane - you should do it properly. Yabadabadooo.
WHY DO WE BUILD IN TREES?
Building tree platforms or nests as a shelter from dangers on the ground is a habit of all the great apes, and a human trait. The difficulty for paleoanthropologists who would like to prove when and for how long we have built such structures - is that the remains of wooden tree houses would not survive for long enough to be found as relics because trees are living things and eventually die - and untreated wood decays quickly. However, evidence for cave accommodation, terrestrial man-made rock shelters, and bonfires should be possible to find if they had existed, but are scarce from earlier than 40000 years ago. This has led to a hypothesis that archaic humans may have lived in trees until about 40000 years ago.

Even today, treehouses are built by some indigenous people (modern man) in order to escape the danger and adversity on the ground. In some parts of the tropics, houses are either fastened to trees or elevated on stilts to keep the living quarters above the ground to protect occupants and stored food from scavenging animals. The Korowai, a Papuan tribe in the southeast of Irian Jaya, live in tree houses, some nearly 40 metres (130 ft) high, as protection against a tribe of neighbouring head-hunters, the Citak.

Modern tree houses all over the world are usually built as a hut for children or for leisure purposes. Modern tree houses may also be integrated into existing hotel facilities. In Europe treehouses are usually built as Children's Facilities and recently also as offices.

Along with subterranean and ground level houses, tree houses are an option for building eco-friendly houses in remote forest areas, because they do not require a clearing of a certain area of forest.
ANCHORS - In order to provide support for the leaning trunk of the ailing sycamore, we dug a couple reasonably sized holes and filled them with hardcore and then concrete. We can lean a stay onto the concrete anchor point on the ground and to the tree trunk high up, non-invasively. The angle needs to be carefully worked out so that the area of the concrete pad is able to support around two tons of loading during high winds. This is because the trunk will bend slightly one way in the wind and snap back as the wind changes, heaving a significant portion of its mass onto the anchor pads.
We do not need a platform to be installed up the trunk of this tree, and so will not need planning permission according to the Town and Country Planning (General Permitted Development) (England) Order 2015: Schedule 2, Part 1, Class E – buildings incidental to the enjoyment of a dwellinghouse. And that is because the main museum building acquired immunity from enforcement from four years of use as a home under the provisions of the 'Four Year Rule.'
FIXINGS

There are numerous techniques to fasten your structure to your chosen tree which seek to minimize tree damage.

The construction of modern tree houses usually starts with the creation of a rigid platform, on which the house will be placed; the platform will lean (possibly on the corners) on the branches. In case there aren't enough suitable supports, the methods to support the platform are:

Struts and stilts

Struts and stilts are used for relieving weights on a lower elevation or straight to the ground; Tree houses supported by stilts weigh much less on the tree and help to prevent stress, potential strain, and injury caused by puncture holes. Stilts are typically anchored into the ground with concrete although new designs, such as the "Diamond Pier", accelerates installation time and they are less invasive for the root system. Stilts are considered the easiest method of supporting larger tree houses, and can also increase structural support and safety.

Stay rods

Stay rods are used for relieving weights on a higher elevation. These systems are particularly useful to control movements caused by wind or tree growth, however they are the used less often, due to the natural limits of the systems. Higher elevation and more branches tailing off decreases capacity and increases wind sensibility. As building materials for hanging are used ropes, wire cables, tension fasteners, springs etc.

Friction and tension fasteners

Friction and tension fasteners are the most common noninvasive methods of securing tree houses. They do not use nails, screws or bolts, but instead grip the beams to the trunk by means of counter-beam, threaded bars, or tying.

Invasive methods

Invasive methods are all methods that use nails, screws, bolts, kingpins, etc. Because these methods require punctures in the tree, they must be planned properly in order to minimize stress. Not all species of plants suffer from puncture in the same way, depending partly on whether the sap conduits run in the pith or in the bark. Nails are generally not recommended. A new development called the treehouse attachment bolt (TAB) can support greater weights than earlier methods.


THE TREE HOUSE ATTACHMENT BOLT

One of the main features of TABs is their strength, requiring fewer tree penetrations for robust fastening of a treehouse and hence less damage to a live tree. A typical TAB consists of a threaded metal bolt and a larger diameter collar. The latter provides an extra bending strength by bearing upon the compression strength of the tree grain. Since treehouses are subject to frequent load reversal produced by winds, TABs must be made of spring steel. The bolts are able to support from between 9,000 and 12,000 pounds (4,100 and 5,400 kg), a much greater load than conventional lag bolts.

TABs are commonly used in conjunction with pipe brackets, allowing the treehouse structure to move independently with the tree. TABs are designed so a tree's added girth can further envelop it.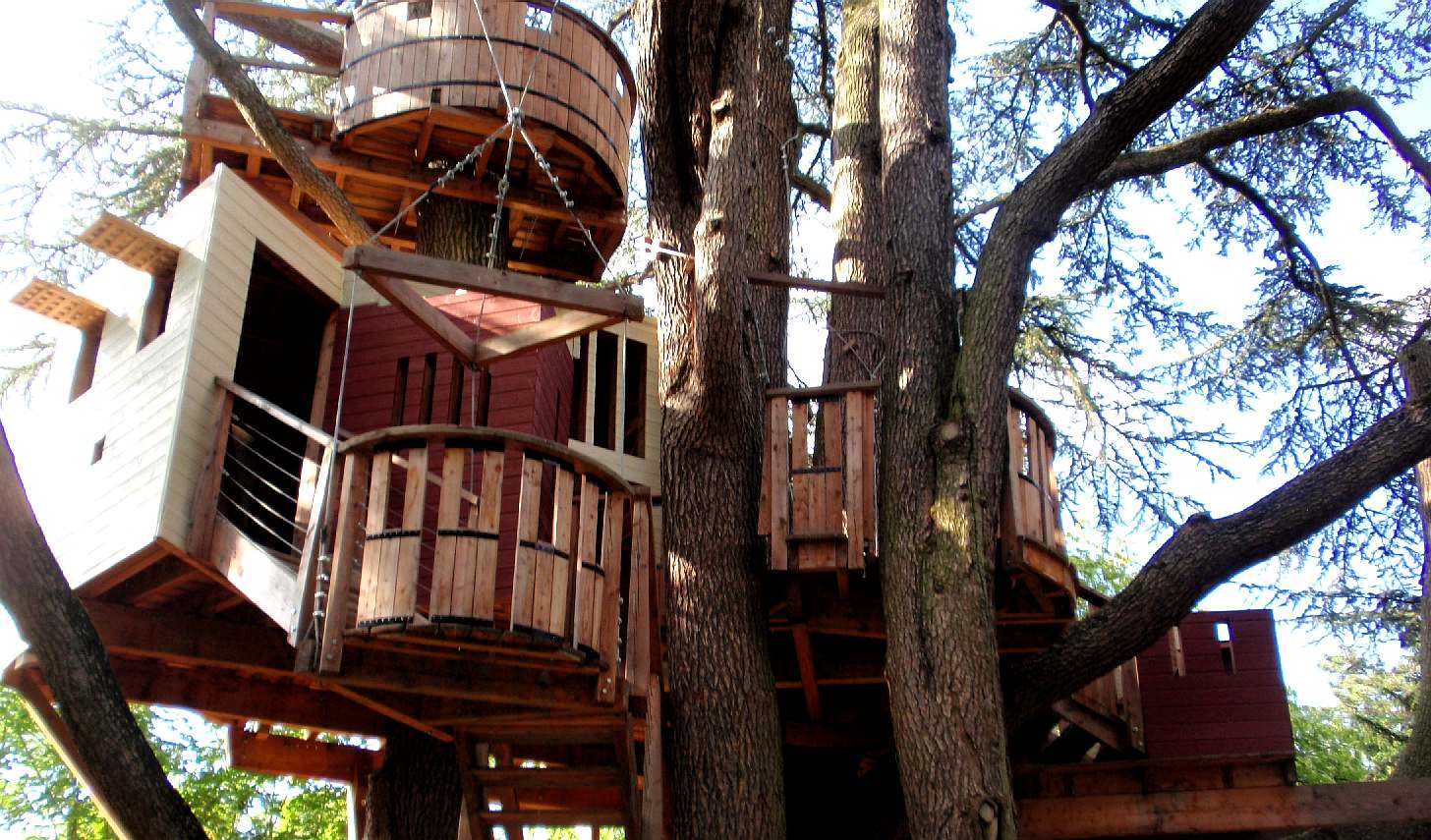 Our advice to anyone thinking of building a tree house is to stay within the limits defined in the GPDO (as reproduced below), or make your climbing frame or tree house mobile. Mobile structures are not classed as development of the land because they are not permanently attached to the land. If for any reason we needed a platform, we would instruct a public interest company to make temporary arrangements and simply ask them to take it down the moment it was not needed for work on this tree or otherwise challenged. We might though try to persuade them to take the matter to appeal to seek the views of the Secretary of State and if appropriate set a case precedent that other UK citizens could use as additional guidance concerning temporary structures.
We would urge others facing a similar dilemma to those poor souls in the media, to adopt a similar stance. Under no circumstances erect a tree house yourself if it does not comply with the current legislation. Allow a limited company to install any structure in your tree under the terms of an Agreement where they settle all appeal costs should they lose at an appeal (public inquiry) against an enforcement notice. If you lose an appeal the Council can ask for costs and then seek to place a Land Charge in their Local Register. One way or the other Councils try to gain their costs, but they cannot get blood out of a stone that is a limited company with little in the way of assets.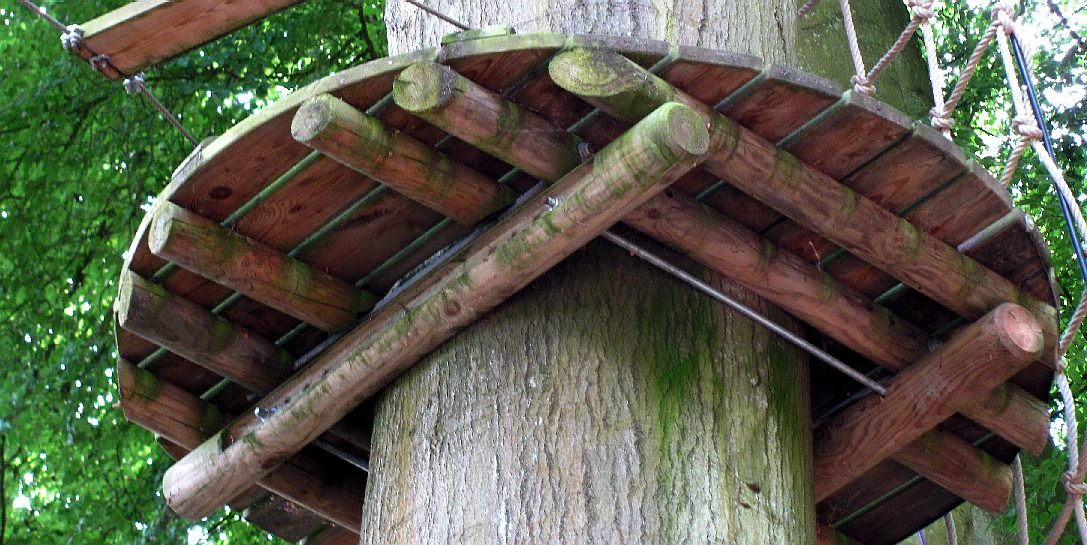 GRIPPING STUFF - Friction and tension fasteners are the most common noninvasive methods of securing tree houses. They do not use nails, screws or bolts, but instead grip the beams to the trunk by means of threaded bars in the case of the example above. This format is ideal for the collar that we need to make to give the bracing supports something to push against. We'd rather not have to drill into the tree, even if using stainless steel or titanium implants.
PLANNING & BUILDING REGULATIONS

Many areas of the world have no specific planning laws for tree houses, so the legal issues can be confusing to both the builder and the local planning departments. Treehouses can be exempt, partially regulated or fully regulated - depending on the locale.

In some cases, tree houses are exempted from standard building regulations, as they're considered outside of the regulations specification. An exemption may be given to a builder if the tree house is in a remote or non-urban location. Alternatively, a tree house may be included in the same category as structures such as garden sheds, sometimes called a "temporary structure". There may be restrictions on height, distance from boundary and privacy for nearby properties. There are various grey areas in these laws, as they were not specifically designed for tree-borne structures. A very small number of planning departments have specific regulations for tree houses, which set out clearly what may be built and where. For precaution of safety during the tree house construction, it is usually best to do as much work as possible on the ground and also concerned be about its long-term viability.
In general for the purposes of planning permission in the UK, climbing frames are treated as temporary structures and as such planning permission is usually not required. However, in our experience each planning department has its own set of guidelines for treehouses.
TREETOPS - This is a property on the other side of the village of Herstmonceux that at certain times of the year you can rent as holiday accommodation. The cottage features a large balcony on substantial wooden stilts, with decking cut around the trunk of a tree such as to integrate with nature.
Tucked away in historically rich 1066 country it is ideally located for walking, horse riding, cycling and painting. There is a strong arts and crafts movement locally and there are plenty of good pubs that serve excellent food within easy reach. For nature lovers there is an abundance of local bird life and the nearby marshes and levels on the way to the beach at Pevensey (15 minutes by car). 5 minutes from the South Downs National Park it is within easy reach of Eastbourne, Tunbridge Wells, Hastings, Brighton, Ashdown (Pooh Bear) Forest and Forest Row Country Park. There is fishing at the local trout farm, golf, tennis, a windmill, Herstmonceux Castle and a Science Centre. Other nearby attractions include the Bluebell Railway, Sheffield Park, Michelham Priory, the White Horse at Alfriston and Long Man at Wilmington.
It's on a tiny little lane with trees meeting over the road in places. There are lots of public footpaths including one that goes through next door's land and down through fields to the woods. The property is described as: a gorgeously romantic detached annex with stunning views across an area of outstanding natural beauty. Generously proportioned studio room with French doors to large private balcony with tree growing through it. Spiral staircase to downstairs kitchenette and shower room. Access to beautiful garden shared with the owner's family which backs onto open fields. Self catering. It's a wonderful space for getting away from it all and right into the countryside; to relax and enjoy the beauty of nature; to heal, create music or art or to study. It's very much a cozy country property rather than a stylish hotel setting but it's nicely and very comfortably furnished in rustic style. Horses clop along the lane outside and birdsong fills the air. There is a farmer along the lane who has equipment in use and large vehicles during the week sometimes so it's more reliably peaceful at weekends.
GARDEN SHEDS, GREENHOUSES AND OTHER BUILDINGS LAW
There are general guidelines for outdoor buildings and raised decking and, at the moment, climbing frames, playtowers and treehouses fall into the same category. For Northern Ireland they are:

Planning permission is not required provided that:

1. The shed / greenhouse / building is used for domestic purposes only.

2. The ground area covered by the shed/greenhouse/building and any other buildings within the boundary of the property, excluding the original house, is not more than half the total area of the property.

3. No part of the shed / greenhouse / building is in front of the principal or side elevation of the original house that faces onto a road.

4. The maximum height of the shed / greenhouse / building is 4 metres.

5. The maximum eaves height of the shed / greenhouse / building is 2.5 metres if it is within 2 metres of the property boundary.

6. No part of the shed / greenhouse / building is within 3.5 metres of the boundary with a road to the rear of the house.

7. If you live in a house within a World Heritage Site, area of outstanding natural beauty or National Park the maximum total area of ground covered by buildings, enclosures and pools situated more than 20 metres from any wall of the house does not exceed 10 square metres.

8. If you live in a house within a conservation area, World Heritage Site, area of outstanding natural beauty or National Park the shed / greenhouse / building is not situated between the principal or side elevation of the house and its boundary.

9. The building is not used for the keeping of pigeons.
Note: Measurements are always calculated using external measurements.

If you live in a house which is a listed building, it is likely that you will need Listed Building Consent for any building operations. If the development is within the curtilage of a listed building you may need to submit a planning application for the work unless listed building consent has already been granted. Your local planning office will be able to advise you.
IN ENGLAND AND WALES
Permitted development

E. The provision within the curtilage of the dwellinghouse of —

(a) any building or enclosure, swimming or other pool required for a purpose incidental to the enjoyment of the dwellinghouse as such, or the maintenance, improvement or other alteration of such a building or enclosure; or

(b) a container used for domestic heating purposes for the storage of oil or liquid petroleum gas.

Development not permitted

E.1 Development is not permitted by Class E if—

(a) permission to use the dwellinghouse as a dwellinghouse has been granted only by virtue of Class M, N, P or Q of Part 3 of this Schedule (changes of use);

(b) the total area of ground covered by buildings, enclosures and containers within the curtilage (other than the original dwellinghouse) would exceed 50% of the total area of the curtilage (excluding the ground area of the original dwellinghouse);

(c) any part of the building, enclosure, pool or container would be situated on land forward of a wall forming the principal elevation of the original dwellinghouse;

(d) the building would have more than a single storey;

(e) the height of the building, enclosure or container would exceed—

(i) 4 metres in the case of a building with a dual-pitched roof,

(ii) 2.5 metres in the case of a building, enclosure or container within 2 metres of the boundary of the curtilage of the dwellinghouse, or

(iii) 3 metres in any other case;

(f) the height of the eaves of the building would exceed 2.5 metres;

(g) the building, enclosure, pool or container would be situated within the curtilage of a listed building;

(h) it would include the construction or provision of a verandah, balcony or raised platform;

(i) it relates to a dwelling or a microwave antenna; or

(j) the capacity of the container would exceed 3,500 litres.

E.2 In the case of any land within the curtilage of the dwellinghouse which is within—

(a) an area of outstanding natural beauty;

(b) the Broads;

(c) a National Park; or

(d) a World Heritage Site,

development is not permitted by Class E if the total area of ground covered by buildings, enclosures, pools and containers situated more than 20 metres from any wall of the dwellinghouse would exceed 10 square metres.

E.3 In the case of any land within the curtilage of the dwellinghouse which is article 2(3) land, development is not permitted by Class E if any part of the building, enclosure, pool or container would be situated on land between a wall forming a side elevation of the dwellinghouse and the boundary of the curtilage of the dwellinghouse.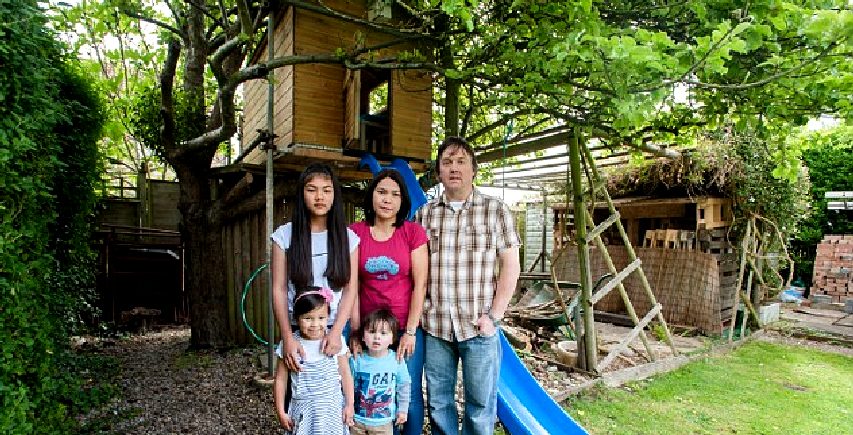 NEIGHBOUR COMPLAINTS - Andrew Eddy of Hardwick in Gloucester put a 3ft shed into a tree with a slide, so his children aged 11, four and two would have somewhere safe to play. Sounds like a great idea, except that neighbours will always complain if overlooked to protect their loss of privacy. In these circumstances it might be a good idea to make sure that your tree house does not overlook any neighbours before building it - unless of course you have exceptionally nice ones.
Another point worth mentioning is to take note of any similar developments in the locality just in case discriminatory policies are on the agenda somewhere. Council's will try to tell you that each case is decided on its own merits. That is of course rubbish. Decisions have to be consistent with other decisions, or the Secretary of State can and sometimes does revoke a permission that a council may have given to one person, but not to another.
PLAYTOWERS & CLIMBING FRAMES

* The structure must be less than 4 metres high to the top of a ridged roof if it is to be beyond 2 metres from a boundary. If it has a flat roof the maximum height should be 3 metres.

* The structure must be less than 2.5 metres high if within 2 metres from a boundary.

* The playtower should be 5 metres away from the dwelling.

* The playtower must not be sited between the dwelling and a main highway.

* The playtower does not have a floor area in excess of 30 square metres.

* If the playtower has a floor area of more than 20 square metres, it should be 1 metre from the boundary.

Platforms above 30 cm need planning permission, rather strangely, considering the General Permitted Development Orders of 1994 and 2015. Nevertheless, steer away from platforms. We are.

When you're considering buying a climbing frame, playtower or treehouse, the first people we would suggest you talk to are the neighbours and anyone else who might object for whatever reason. Next we would suggest you ask your local planning officer whether they think you would need planning for what you propose to have installed. It would appear that there is a degree of objectivity allowed when considering planning proposals and this can lead to differing opinions from one authority to the next.
TELEGRAPH 6 JULY 2009 - All tree houses need full planning permission, new rules say

Parents face having to pay hundreds of pounds for planning permission to put up tree houses, after a change to the law which threatens to force their gradual disappearance.

Senior planning officers have confirmed all tree houses now need full planning permission, including flat-pack play structures bought from retailers such as Argos and John Lewis.

The cost of applying for permission is usually at least £150, with parents also having to pay extra to provide detailed drawings and Ordnance Survey maps plotting the exact location of the tree house.

The rules, which came into force in October last year, now mean that even a basic self-assembly playhouse from Argos, costing £215, could end up costing well over £400.

Many retailers and garden designers are unaware of the rules and starting to be caught out by local councils.

Phil Kirby, who until last week was the most senior planning official in the country as the president of the Planning Officers' Society, said: "It is a perverse consequence of the rule changes that major projects, costing tens of thousands of pounds no longer need planning permission, but tree houses do. I can see why parents might be annoyed by the extra cost."

In October last year, major changes to the planning regime were introduced to make it easier for homeowners to convert their lofts and extend their kitchens. In most circumstances planning permission is no longer required for these building works.

However, alongside the big changes, guidelines were introduced to tighten up previously ambiguous rules about outbuildings, garden sheds and verandas.

"No verandas, balconies or raised platforms" are allowed without planning permission, under the new rules, with "raised" defined as a height of over 30cm.

This means even a modest permanent play house, raised a foot off the ground, needs to be submitted for scrutiny to the local council, with officials taking six to eight weeks to make a decision after residents have been consulted.

Sara-Jane Rothwell, a garden designer who runs Glorious Gardens in north London, said: "This has caused real problems for us. Until the end of last year, we never had a problem with tree houses. And now all of a sudden – because of tiny small print that no one seems aware of – it has become a big, big issue."

Leading retailers are confused by the rules with neither Argos nor John Lewis advising customers, who shop through their websites, that permission needs to be sought for some of the climbing frames, and raised play structures, which are becoming increasingly popular.

John Lewis insisted that all of its play houses, even the £1,500 model with climbing towers, were "temporary structures" and did not need permission. Mr Kirby disputed this, saying they clearly fell within the new rules.

He added that he was mostly in support of the new rules. "It was understood that tree houses would fall foul of the new planning rules. The thinking was to prevent structures that overlooked a neighbour's garden. When this happens neighbours can be significantly annoyed."

Garden designers and tree house manufacturers, however, are exasperated. Kay Frost, the co-owner of Playhouse Group in Herefordshire, said: "It's a nightmare and very costly and confusing for our customers. The special drawings you have to submit are particularly cumbersome. It would be a real shame if fewer tree houses are built. They are such a great thing for children."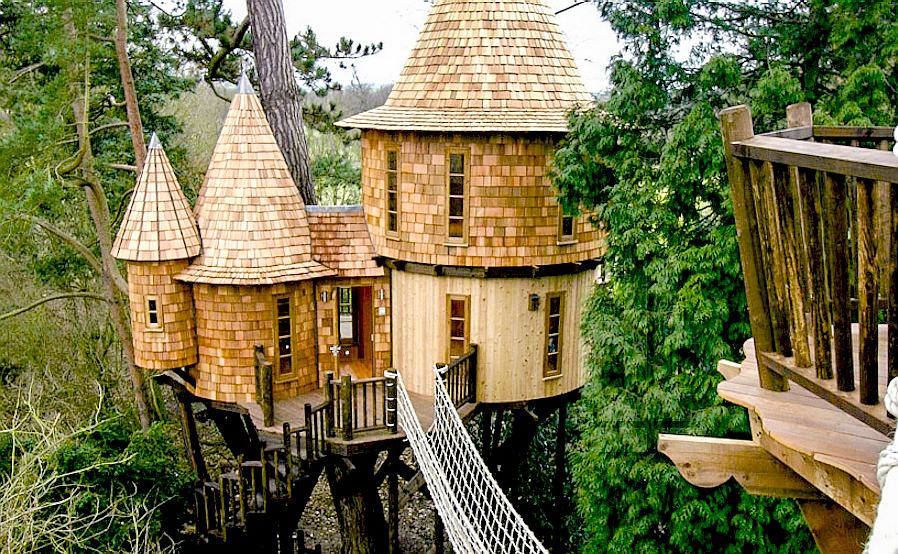 THE EXPRESS APRIL 25 2016


A Dad is gutted after the council told him to tear down a massive 'tree house' he built for his seven-year-old daughter - because he didn't apply for planning permission.

Construction worker Mat Waybourne, 42, spent every spare evening and weekend for months building the two-storey 'shed on stilts' for daughter Lilly.

He forked out £800 on the 15ft tall wooden house - which has a balcony, windows and two ladders - because he wanted somewhere safe for her to play during visits.

But he was devastated when a council officer told him he had to tear it down because he hadn't applied for planning permission for the impressive structure.

Now he has received an enforcement notice from Herefordshire Council's legal team and faces breaking up the little girl's play home - or paying £344 to appeal.

Single Mat, from Tupsley, Herefordshire - who shares custody of Lilly and her brother Joseph, 12 - is begging for council officers to change their mind.

He said: "I've done it properly. It's fully clad and has little perspex windows and you go up a little ladder and then there is a balustrade, and then another little ladder up to the tree house.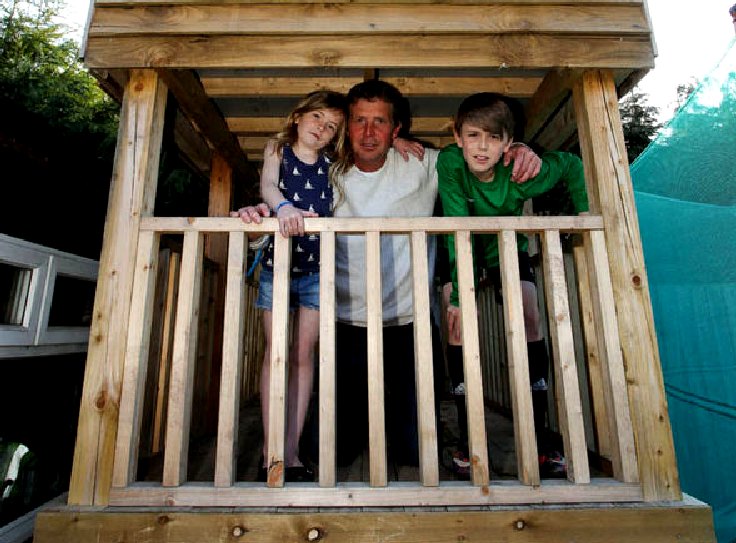 "When I showed it to her she was chuffed to bits. She's always up there with her friends. It was about two months ago the council first contacted me. They said they weren't happy with it. "But that's a bit extreme - it's just a kid's tree house. It's a waste of the council's time. Haven't they got anything better to do that threaten children's tree houses?"

It took Mat around two months and 30 hours to build the wooden-clad house which is around 15 ft tall, and sits between his shed and a trampoline.

It features two storeys, with a balcony level under the main 'house', which has a desk and chairs inside and working windows - some of which overlook neighbours.

The 'tree house' sits at the end of the garden belongings to Mat's semi-detached home in a quite cul de sac, and was completed around seven months ago.

He said he build it because his daughter "always wanted a tree house" and he wanted to make her dreams come true "before she gets too old". He added: "I don't think it is safe to let my children out to play in the streets," he added."

He received a call from the council complaining about the structure in February and an enforcement notice from the authority's senior litigator on April 5.

The letter said he had to comply with their demands and tear it down before May 17, or lodge an appeal, which he is planning to do.

He added: "It might be easier to just chain myself to the tree house. I'm gutted. "I've told my daughter and she's not very happy about it. She was really upset. She doesn't really understand why."

Council officials told him the order came as it breached height restrictions. They refused to tell him whether they had received complaints from neighbours.

A spokeswoman for Herefordshire Council said: "The council has served an enforcement notice upon Mr Waybourne for a breach of planning regulations relating to a 4 metre construction he has erected within 2 metres of his land boundary.

"He has a right to appeal against this. It is a matter for him whether he chooses to do so."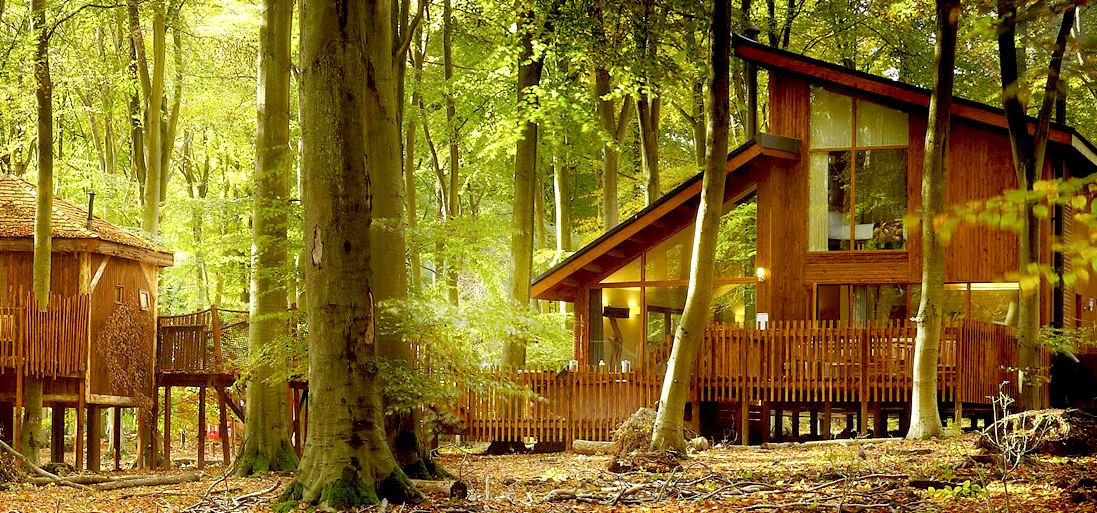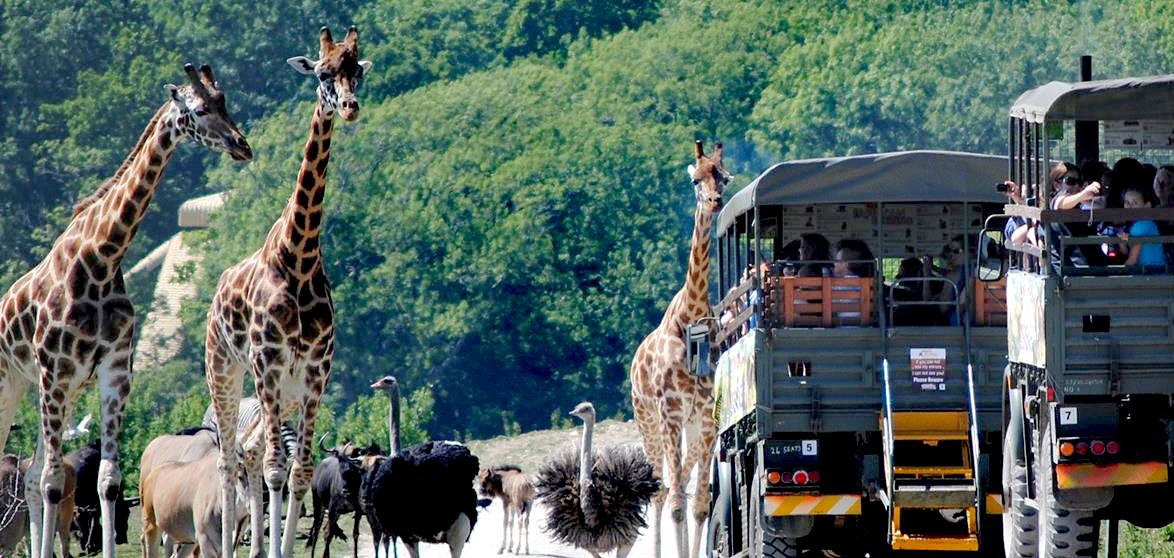 SUPERB - A couple of fantastic scenes from holiday parks in England, the first in a treehouse holiday hotel park and the second as visitors to John Aspinal's foundation are driven through a park populated with giraffes and ostriches on a beautiful day.
DAILY MAIL MAY 26 2015
A father-of-three has been ordered to pull down his children's tree house by planning officials because it is more than 30cm above the ground.

Andrew Eddy of Hardwick in Gloucester put a 3ft shed into a tree with a slide, so his children aged 11, four and two would have somewhere safe to play.

However, a neigbour reported the treehouse to the local councils who said the structure required planning permission.

If Mr Eddy does not apply for planning permission, he will have to demolish the £400 structure or face prosecution.

Under the terms of the 2015 Town and Country Planning Act, treehouses come under a section dealing with raised structures.

The rules, which were first introduced in 2009, apply to any structure which is more than 30cm from the ground.

A tree house comes under a section which has a 'purpose incidental to the enjoyment of the dwellinghouse'.

Stroud District Council branded Mr Eddy's creation as a 'shed held up with scaffolding'.

However, Mr Eddy said he only put up the three-foot shed as it was safer than a structure left by the previous occupants.

He said he wanted somewhere safe for his children Chanikan, 11, Elizabeth, four, and Lewis, two.

Mr Eddy said he surrounded the structure with scaffolding to make it even safer for his children.

However, the gas engineer said he was stunned when he received a planning enforcement notice from the council after a neighbour informed them of the treehouse.

He said: 'I couldn't believe it - I thought it was a joke.

'They said anything more than 30cm off the ground needs planning permission.

'It seems as though all common sense has gone out the window and to threaten prosecution is ridiculous.

'We are talking about a treehouse here, a playhouse for children, a temporary structure.

'They will be devastated if we have to take it down.'

A platform was already in the tree when Andrew and wife Nitaya, 33, moved in two years ago and when his kids started using it, he decided to make it more secure.

More than a year ago he installed some scaffolding over two weekends and gave the platform sides and a roof, so his kids could play more safely, paying £400.

Four months later he was visited by a council planning officer after a neighbour complained but he claims he was told they would take no action.

He said: 'They replied saying it should have planning permission but we won't do anything because it's such a small thing, and I thought nothing more of it.'

But he then got the planning enforcement notice earlier this month and will have to tear it down or face prosecution.

Disappointed Andrew said: 'They say they think it overlooks the other gardens but you can't even see it through the canopy of the tree which completely covers it up.

'I wish the neighbours had just come to me and said something straight away.

'I think it is a bit ridiculous. It is not like it is constantly in use - the kids only use it on the nice days when it is light enough.

'It is no different if the children are playing in the tree or in a treehouse.

'So does this mean the tree has to be cut down too?

'What is it they find so offensive about the sight of children playing?'

Andrew has lodged an appeal against the planning notice.

Stroud District Council said: 'The treehouse in question is a shed held up by scaffolding and is clearly visible from neighbouring properties.'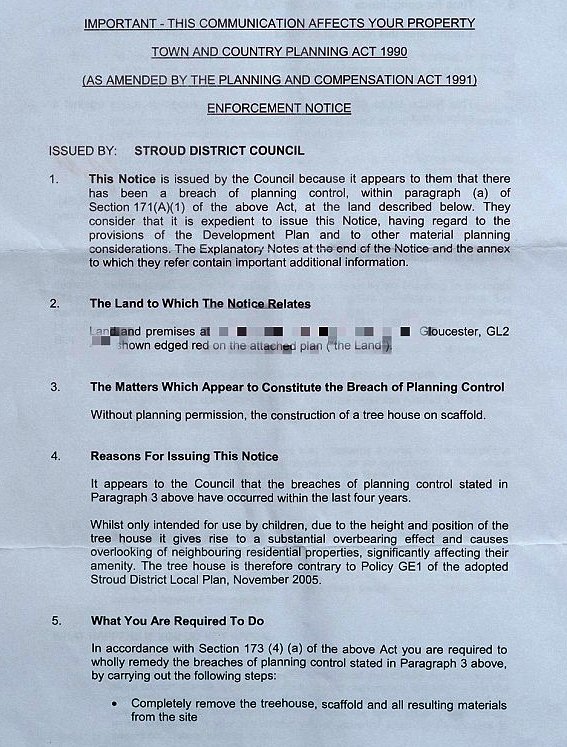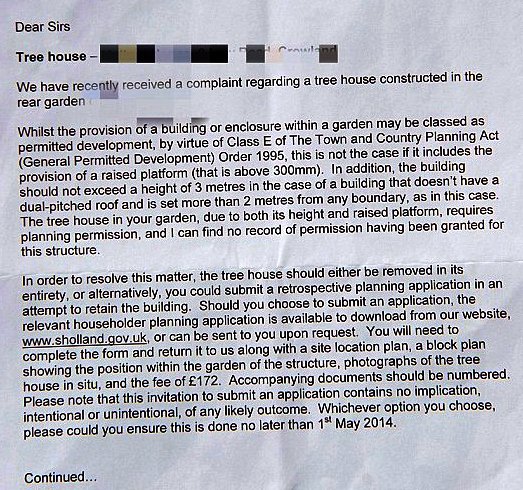 TREE HOUSE POLICE - Civil servants with (it seems) very little imagination other than to stifle creativity, come to love forcing the more adventurous to abandon their dreams and live in cardboard boxes. That said, there are times when a whim out of control might impede the enjoyment of neighboring properties. In days gone by these whims were called follies. No folly today would ever be built because of planning regulations, unless the creators knew a good planning consultant to advise on how to play the regulators at their own game.
POPULARITY

Since the mid-1990s, recreational tree houses have enjoyed a rise in popularity in countries such as the United States and parts of Europe. This has been due to increased disposable income, better technology for builders, research into safe building practices and an increased interest in environmental issues, particularly sustainable living. This growing popularity is also reflected in a rise of social media channels and websites specially dedicated to featuring remarkable tree houses around the world.

Increased popularity has, in turn, given rise to demand for businesses covering all building and design work for clients. There are over 30 businesses in Europe and the USA specializing in the construction of tree houses of various degrees of permanence and sophistication, from children's play structures to fully functioning homes.

Popularity of tree house hotels is equally growing, with a number of booking websites offering accommodation in tree houses.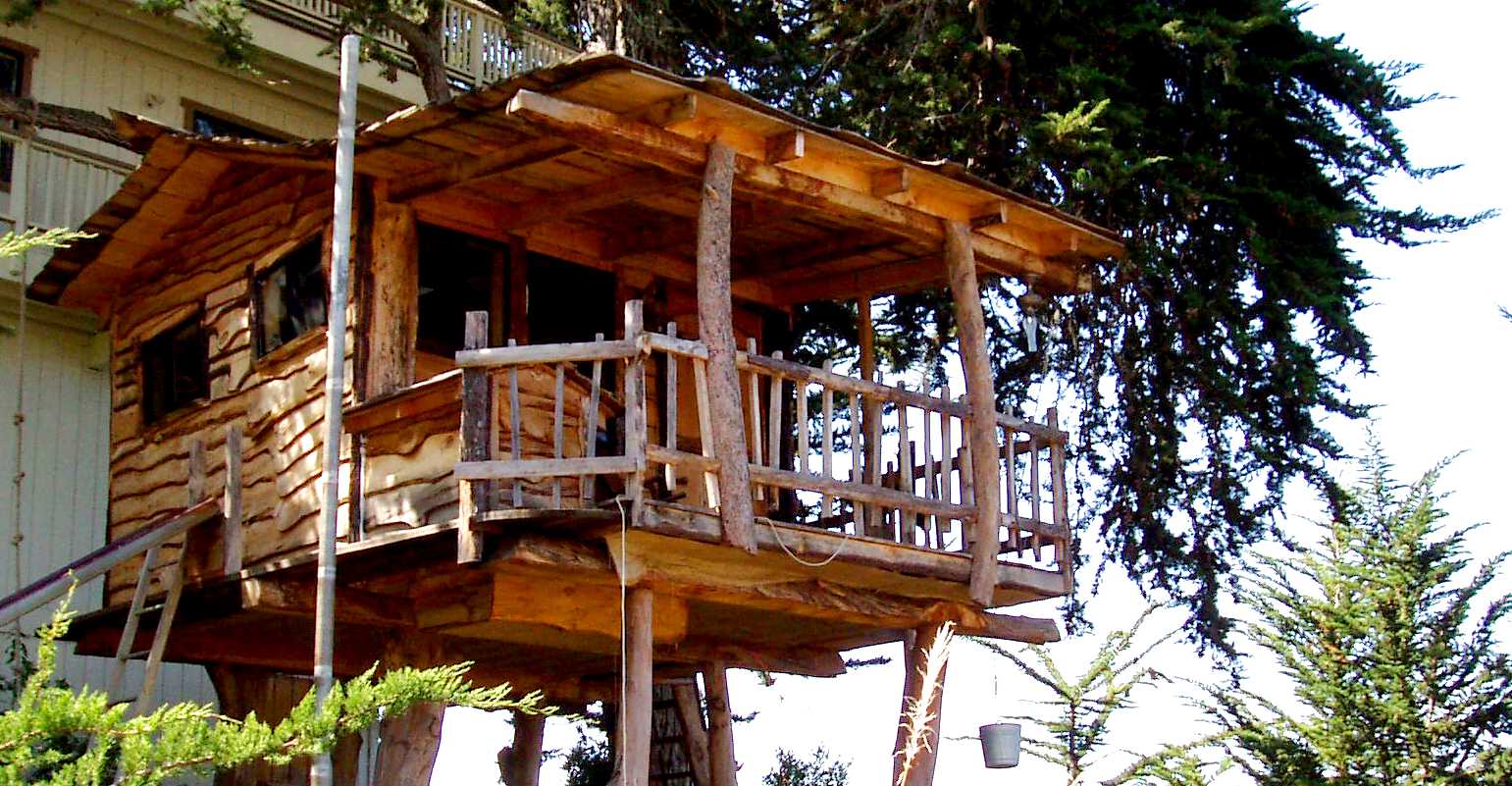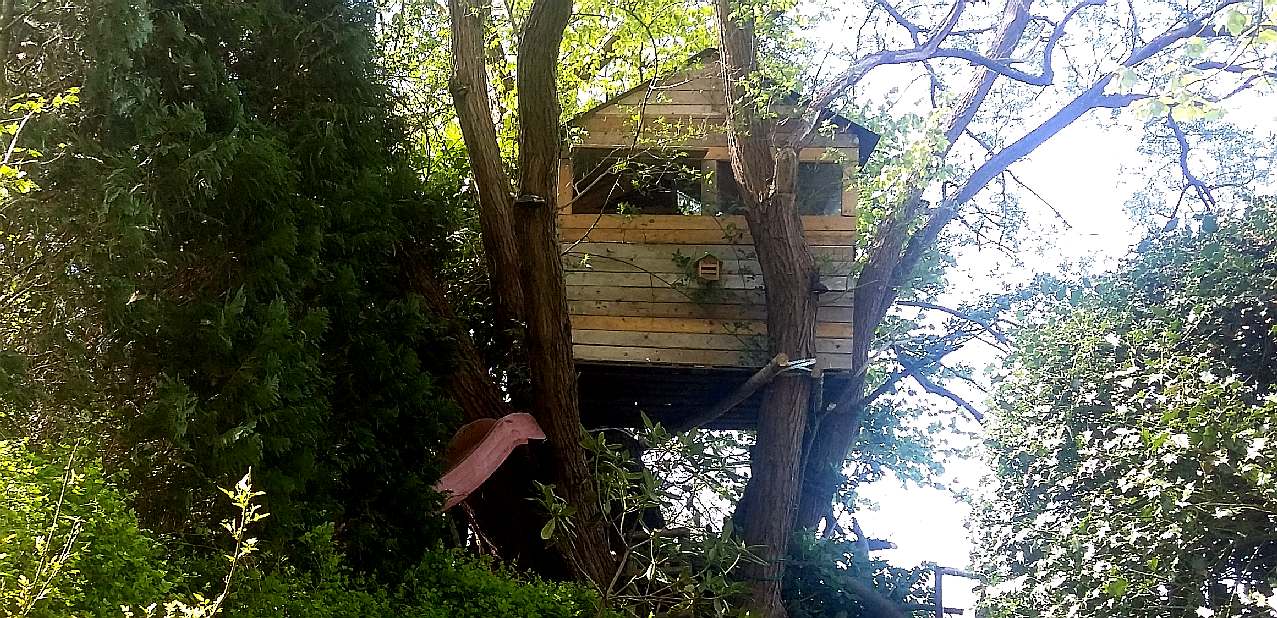 RECYCLED - This tree house in Belgium is built with recycled materials. We would urge any would be tree dweller to consider re-using any old wood that is to hand, before spending money of new timber. Think of planet earth. We are very lucky to be alive and living on such a beautiful home with so many other fabulous species. Please do all you can to help save this orb in space for a thousand more generations to come.

LINKS
Facebook Arboricultural Association
Wikipedia Arboricultural_Association
Wikipedia New_Zealand_Arboricultural_Association
Trees protection advice and guidance
http://www.trees.org.uk/tree-care-advice/Tree-protections-brief-guidance
http://www.mybuilder.com/tree-surgeons/in/uk?gclid=CN7rlpKxgsECFfMZtAodvBkAQA
https://www.facebook.com/ArbAssociation
http://en.wikipedia.org/wiki/Arboricultural_Association
http://en.wikipedia.org/wiki/New_Zealand_Arboricultural_Association
http://www.lgo.org.uk/
LINKS & REFERENCE
Daily Mail UK news father three ordere -pull treehouse built children didn't planning permission
Telegraph UK news law and order all tree houses-need-full-planning-permission-new-rules-say
Express UK news dad-tree-house-tear-down-council-planning-permission
Planning portal government UK permission common projects outbuildings
Play ahead 2015 does-a-treehouse-need-planning-permission
The plaid zebra this-modern-family-lives-in-a-treehouse-with-trap-doors-and-zip-lines
Popular mechanics.com/home/outdoor-projects/how-to
Forest holidays.co.uk/types-of-holiday/tree-house-holidays
Aspinall foundation Port Lympne short breaks treehouse hotel
Center parcs accommodation treehouses
Planning Northern Ireland Government advice_apply_homes around_structures
Legislation UK government 2015 schedule 2 part 1 class e buildings incidental to the enjoyment of a dwellinghouse
Daily mail uk news article South Holland District Council 2014 orders family to tear down 12ft tree house or apply for planning permission
Sussex treehouses outdoor classrooms
http://sussextreehouses.co.uk/outdoor-classrooms.html
http://www.dailymail.co.uk/news/article-2625516/Killjoy-council-orders-family-tear-12ft-treehouse-garden-doesnt-planning-permission.html
http://www.legislation.gov.uk/uksi/2015/596/schedule/2/part/1/crossheading/class-e-buildings-etc-incidental-to-the-enjoyment-of-a-dwellinghouse/made
http://www.dailymail.co.uk/news/article-3097317/Father-three-ordered-pull-treehouse-built-children-didn-t-planning-permission.html
http://www.telegraph.co.uk/news/uknews/law-and-order/5749382/All-tree-houses-need-full-planning-permission-new-rules-say.html
http://www.express.co.uk/news/uk/664191/dad-tree-house-tear-down-council-planning-permission
http://www.planningni.gov.uk/index/advice/advice_apply/advice_apply_homes/advice_around_home/advice_home_structures.htm
http://www.planningportal.gov.uk/permission/commonprojects/outbuildings
http://www.playahead.org.uk/blog/2015/6/does-a-treehouse-need-planning-permission
http://www.theplaidzebra.com/this-modern-family-lives-in-a-treehouse-with-trap-doors-and-zip-lines/
http://www.popularmechanics.com/home/outdoor-projects/how-to/g174/4291691/
https://www.forestholidays.co.uk/types-of-holiday/tree-house-holidays
https://www.aspinallfoundation.org/port-lympne/short-breaks/treehouse-hotel/
http://www.centerparcs.co.uk/accommodation/treehouses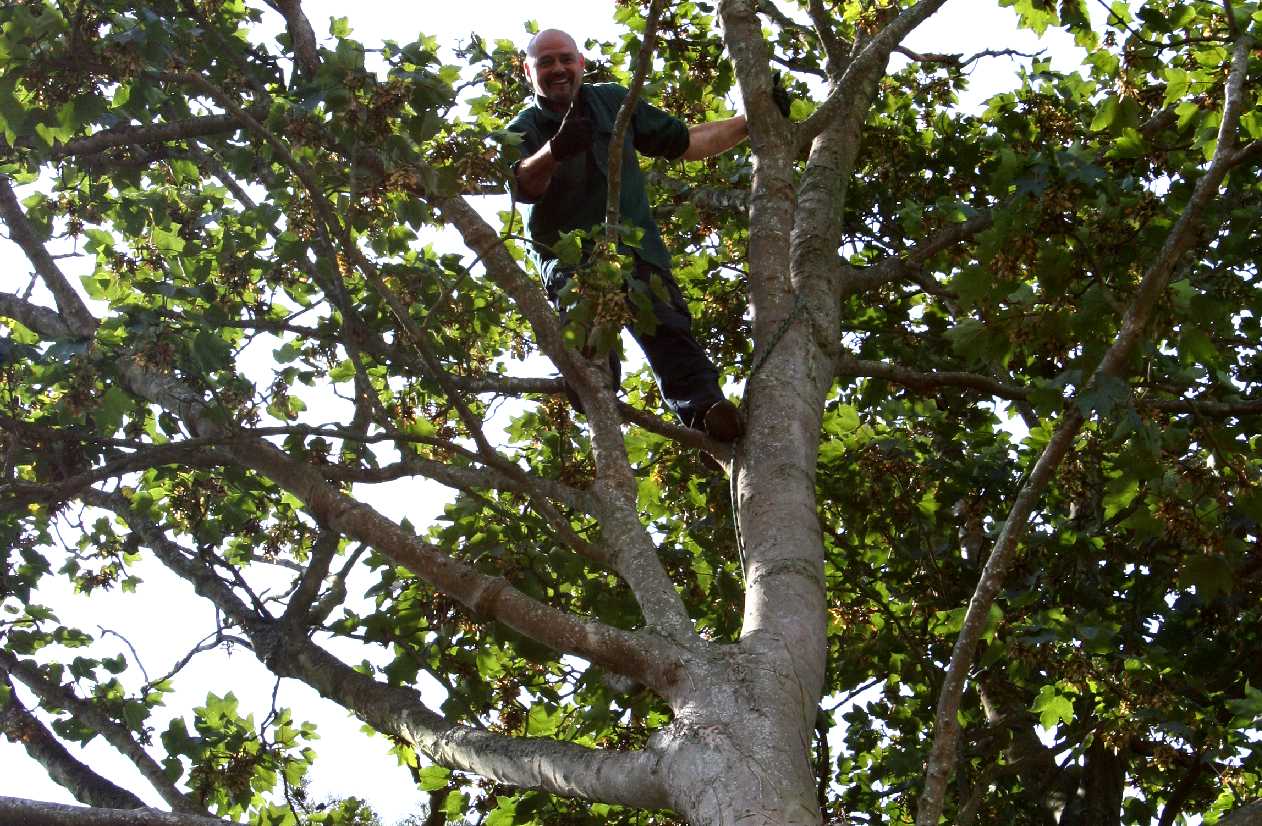 FINALLY - This sycamore had been deemed to be dangerous, so dangerous that a local expert suggested that it would be advisable to use a Mobile Elevated Work Platform (MEWP) when reducing the height. On further examination by our curator (also an engineer) it was found that the tree amply supported a person working in the branches above, though in this case ropes were used just in case.
The main concern with this tree is saving it, if that is at all possible. Our curator thought to give it a go, by bracing the trunk with a wooden plank (later to be replaced by steel sections). He also wondered if it might be possible to effect a bark graft where there is a notch only a few feet from the ground cut into decayed wood at the base of the trunk by way of an exploratory? Though this is only an idea. But, if the Trust are going to spend money on this tree they will have to do something with it. The first item on the agenda is to reduce the height of the tree and so the tonnage of the leafy canopy, in so doing allowing more latitude when considering how best to justify keeping the tree.
SYCAMORE & SCOTS PINES - This sycamore is a particularly difficult tree to climb because it has no branches lower down. For this reason a ladder was used to get to the 'V' from where it was easier going. An alternative approach would be to sling a rope through the vee. When dealing with a tree this tall, do not work alone and wear some grippy shoes - and gloves if you have them.
Adjacent to the sycamore it is a scots pine that is not protected and that has seen better days and is now dropping dead branches regularly as it climbs higher and higher. The scots pine is the national tree of Scotland. Mature trees grow to 35m and can live for up to 700 years. The bark is a scaly orange-brown, which develops plates and fissures with age.

The scots pine is monoecious, meaning both male and female flowers grow on the same tree. Male flowers comprise clusters of yellow anthers at the base of shoots. Female flowers are small, red-purple and globular, and grow at the tips of new shoots.

After pollination by wind, the female flowers turn green and develop into cones. They mature the following season, so there are always cones of different ages on the one tree. Mature cones are grey-brown with a raised, circular bump at the centre of each scale.

The timber from this tree is one of the strongest softwoods available, and is widely used in the construction industry and in joinery. It is used in the manufacture of telegraph poles, pit props, gate posts and fencing. The tree can also be tapped for resin to make turpentine. Other uses include rope made from the inner bark, tar from the roots and a dye from the cones. Dry cones can be used as kindling for fires.
TOP NOTCH - Branch cutting sequence. Work your way up the tree, lopping all of the branches as you go, to clear a path for the upper branches, that would otherwise snag on the way down. Even a giant sycamore like this one can be pruned back to just the trunk in minutes by a fit man using an ordinary bow saw. Copyright © Lime Park Heritage Trust. You will need the permission of the LPHT to reproduce these photographs except for private study or research.
APEMAN - There is nothing quite like being at the top of a tree. The view is spectacular, as expressed in Medicine Man. Our curator loped the top branches of this tree using a bow saw, in the process climbing right to the top of what is a very tall sycamore. In these pictures he reveals his love of life in the branches and his tan lines.
Sycamores can grow to 35 meters ( 114 feet) and live for 400 years, they were imported from Europe but are now considered to be native. Their timber is hard and strong, pale cream and with a fine grain. It is used for making furniture and kitchenware as the wood does not taint or stain the food. Trees are planted in parks and large gardens for ornamental purposes. Mature trees are extremely tolerant of wind, so are often planted in coastal and exposed areas, as a wind break. They are also tolerant of pollution and are therefore planted in towns and cities.
Sycamores are attractive to aphids and therefore a variety of their predators, such as ladybirds, hoverflies and birds. The leaves are eaten by caterpillars of a number of moths, including the sycamore moth, plumed prominent and maple prominent. The flowers provide a good source of pollen and nectar to bees and other insects, and the seeds are eaten by birds and small mammals.
COMING DOWN - Going up is easier. Rather oddly, returning to terra-firma is harder unless you have claws like a squirrel. This very tall tree is slowly reduced to its main trunk. Some of the limbs leaning over the garage on the left, are lowered using ropes and tackle. Then it's time for the chainsaw, as the tree trunk gets thicker and heavier as you get lower to the ground. Copyright © Lime Park Heritage Trust. You will need the permission of the LPHT to reproduce these photographs except for private study or research.
Human hands are designed for brachiating. Brachiation (from "brachium", Latin for "arm"), or arm swinging, is a form of arboreal locomotion in which primates swing from tree limb to tree limb using only their arms. During brachiation, the body is alternately supported under each forelimb. This form of locomotion is the primary means of locomotion for the small gibbons and siamangs of southeast Asia. Some New World monkeys such as spider monkeys and muriquis are semibrachiators and move through the trees with a combination of leaping and brachiation. Some New World species also practice suspensory behaviors by using their prehensile tail, which acts as a fifth grasping hand.
Some traits that allow primates to brachiate include a short spine (particularity the lumbar spine), short fingernails (instead of claws), long curved fingers, reduced thumbs, long forelimbs and freely rotating wrists. Modern humans retain many physical characteristics that suggest a brachiator ancestor, including flexible shoulder joints and fingers well-suited for grasping. In lesser apes, these characteristics were adaptations for brachiation. Although great apes do not normally brachiate (with the exception of orangutans), our human anatomy suggests that brachiation may be an exaptation to bipedalism, and healthy modern humans are still capable of brachiating. Some children's parks include monkey bars which children play on by brachiating.
TRUNK REDUCTION - Finally we are down to the main trunk of this enormous tree. Where there was a possibility of this hefty section falling the wrong way, a rope was used and a person on the ground helped the lumberjack to persuade the tree trunk to fall the right way. The remaining trunk will be shored up and serve as a mounting for either a wind turbine, solar or other equipment to ensure a sustainable future for Herstmonceux Museum. Copyright © Lime Park Heritage Trust 11 October 2016. You will need the permission of the LPHT to reproduce these photographs except for private study or research.
PUNY HUMANS - It is more than likely that our early ancestors possessed apelike strength, at least for the skeletal muscles - according to a recent study. Human brawn is much reduced, while other body tissues, like kidneys, have remained relatively unchanged over millions of years. Over the same time period, the brain evolved four times faster than the rest of the body.

A metabolic study pitted people against chimps and monkeys in contests of strength. The upshot, according to biologist Roland Roberts, is that "weak muscles may be the price we pay for the metabolic demands of our amazing cognitive powers."

Scientists have long noted that the major difference between modern humans and other apes, like chimps, is our possession of an oversize, energy-hungry brain. ("Human Origins Project.") It was the development of our brain that drove the evolution of our early human ancestors away from an apelike ancestor, starting roughly six million years ago.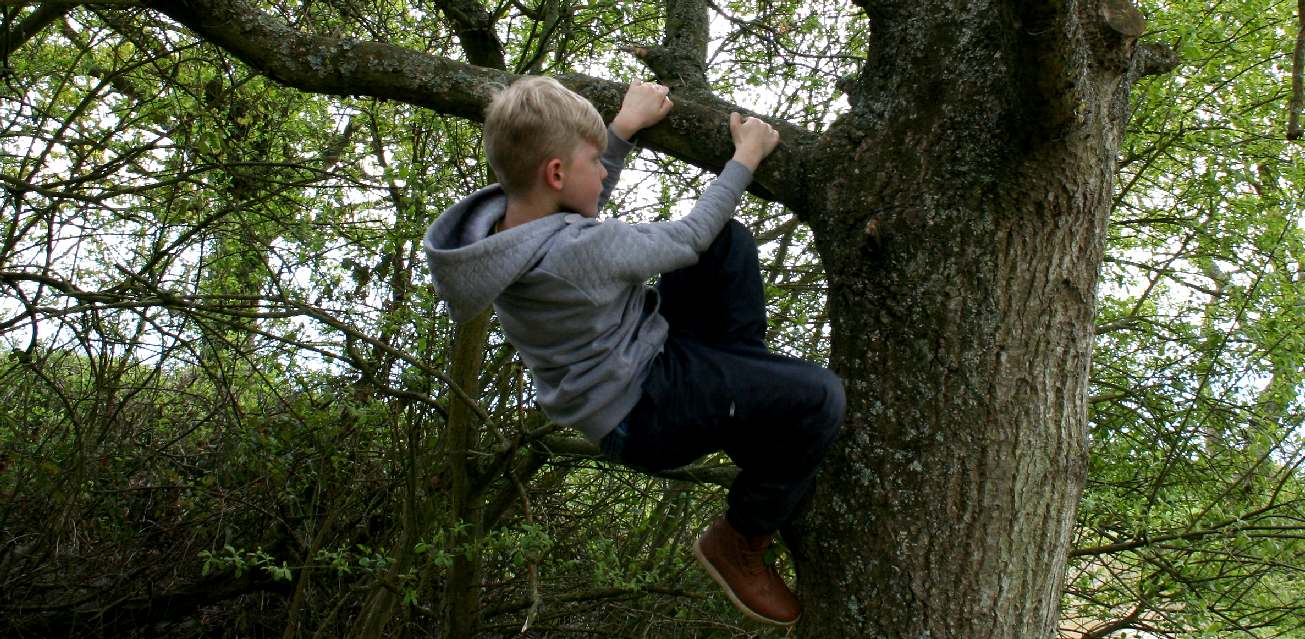 IT'S GOOD FOR YOU - By their very nature, tree houses make us want to climb and climbing trees or mountains for that matter, is good exercise that promotes hand and eye coordination and builds muscle tone.
COUCH POTATO - To confirm findings based on analysis of 10,000 metabolic molecules, researchers pitted people, chimps, and macaques against each other in a contest of strength.

All participants had to lift weights by pulling a handle. "Amazingly, untrained chimps and macaques outperformed university-level basketball players and professional mountain climbers," Roberts is quoted as saying. People were only about half as strong as the other species.

Looking for an explanation, the team also subjected the macaques to two months of a "couch potato" lifestyle: little exercise, high stress, poor diet.

At the end of the two months, a strength contest with the couch potato macaques found that the animals' strength hadn't declined much. In fact, the scientists deduced from those macaques that humanity's "soft" lifestyle accounts for 3 percent of the strength difference between people and monkeys. This appears to confirm the idea that weak muscles, along with a weakness for the couch - so conducive to brain-intensive exercises like watching movies and reading - could be our evolutionary inheritance.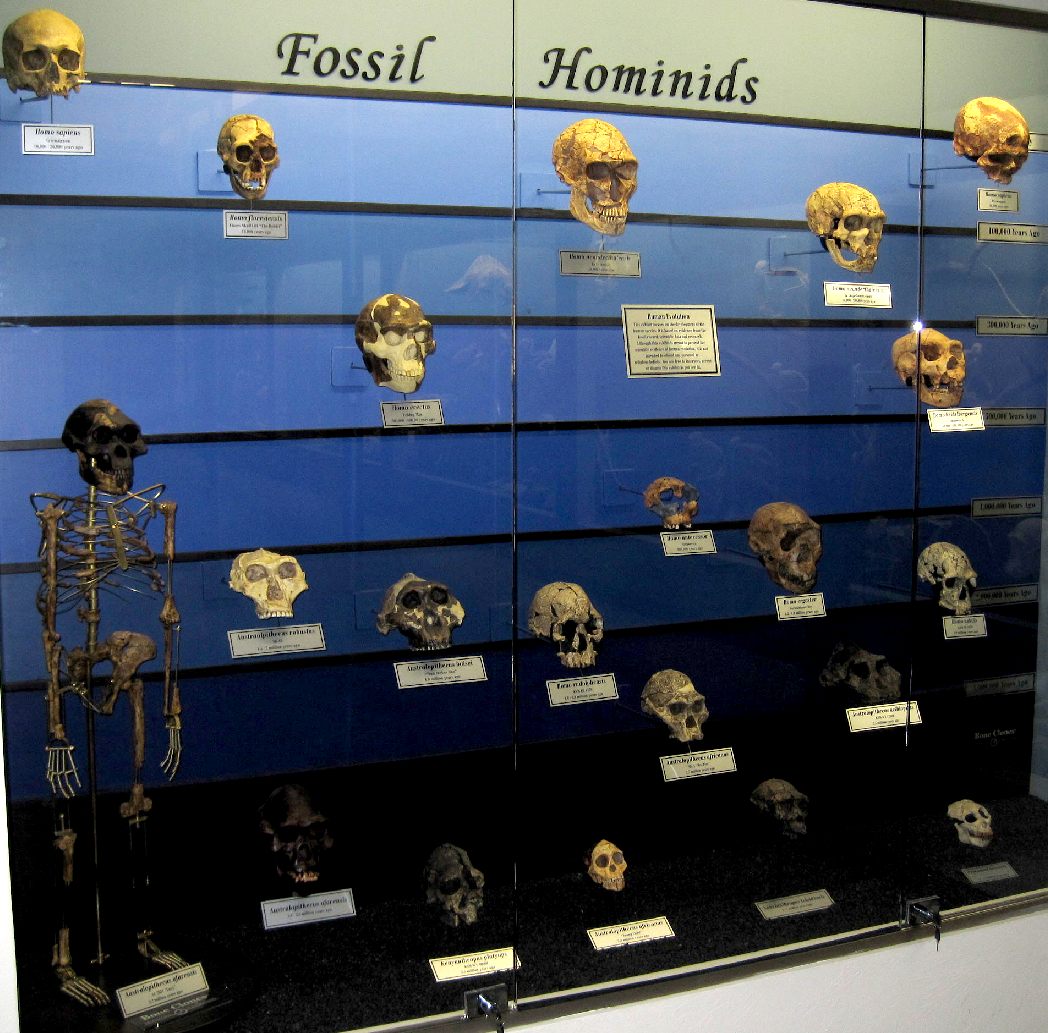 PALEOANTHROPOLOGY - Paleoanthropology or paleo-anthropology (from Ancient Greek: παλαιός (palaeos) "old, ancient", ἄνθρωπος (anthrōpos) "man, human" and the suffix λογία (logia) "study of"), the combination and a sub-discipline of paleontology and biological anthropology is the study of the formation and the development of the specific characteristics of humans (hominization) and the reconstruction of evolutionary kinship lines in the family Hominidae, by means of the study of fossils, such as petrified skeletal remains, bone fragments, footprints and associated evidence, stone tools, artifacts, and settlement localities. As technologies and methods advance, genetics plays an ever increasing role in paleoanthropology, in particular examining and comparing DNA structure as a vital tool of research of the evolutionary kinship lines of related species and genera.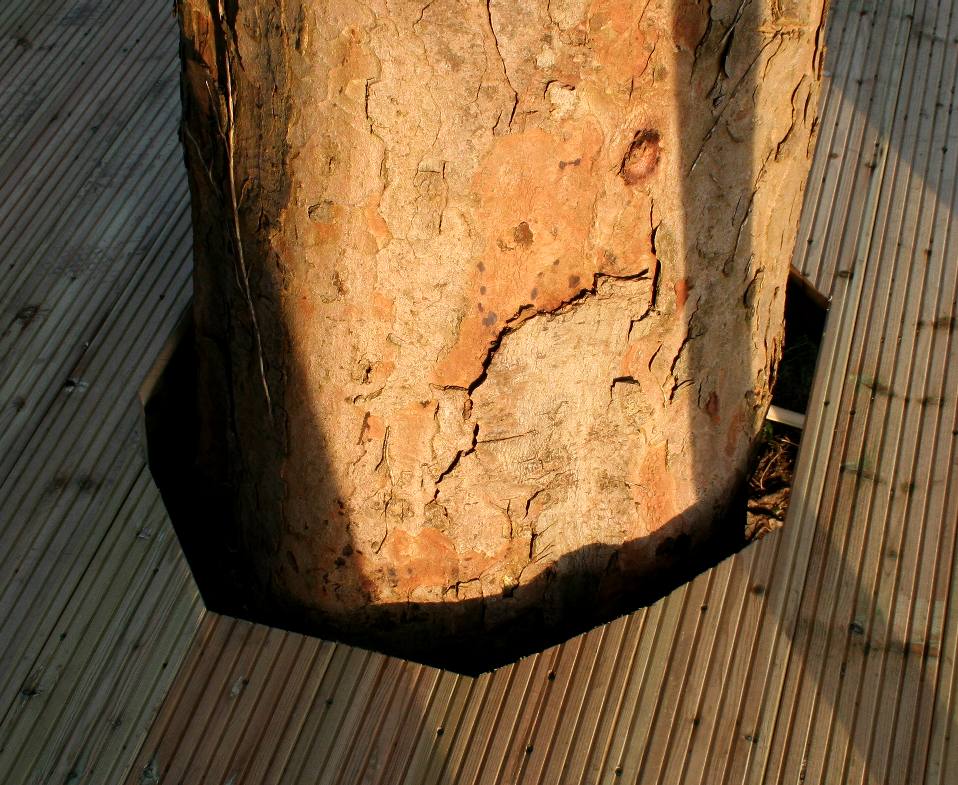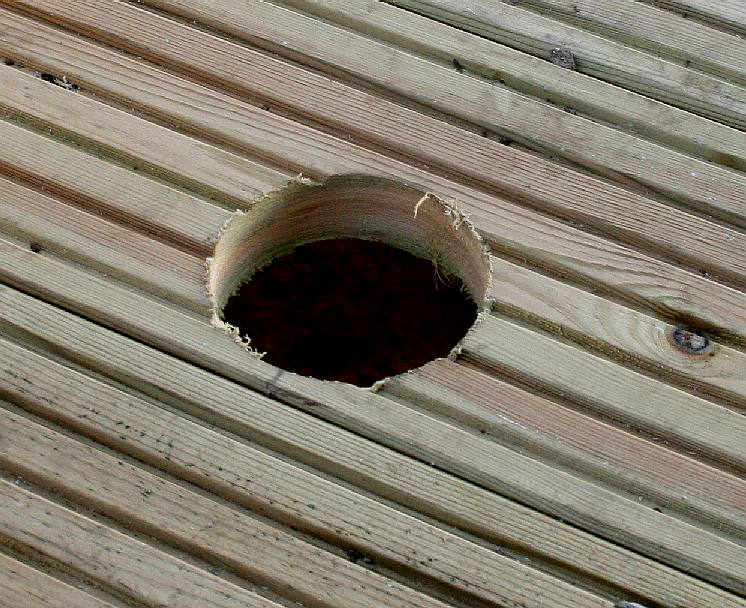 SHED OR TOOL STORE INCORPORATION - This project includes a shed that has been built around the tree trunk especially to store a trailer, wheelbarrows and other bulky garden equipment. The sycamore trunk goes through the roof of the shed as seen on the left. The anchors (or tree stays) also go through holes in the shed roof as seen on the right.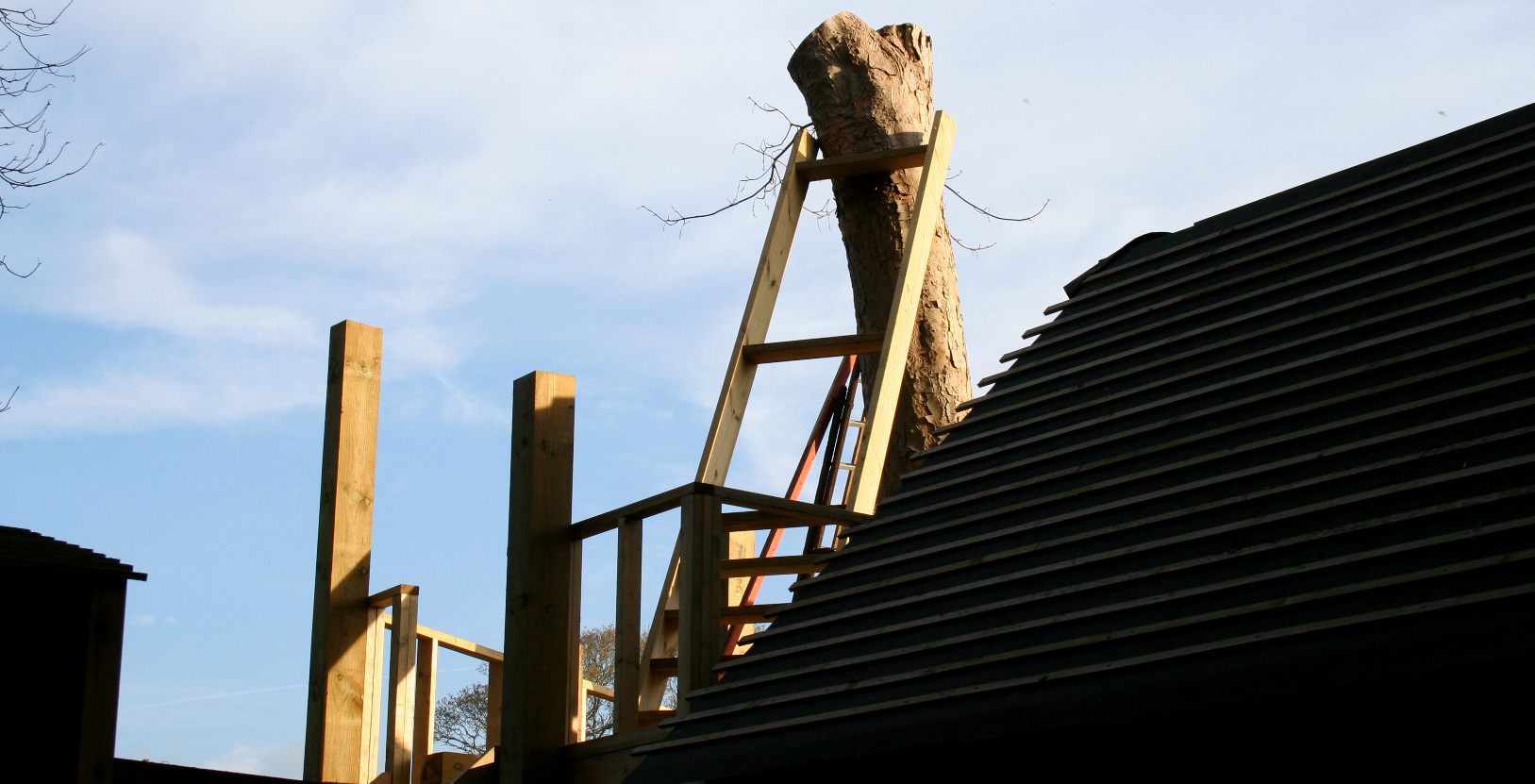 STAIRWAY TO HEAVEN - These steps (unfinished) can be used on any tree or building and can be moved around, but at the moment, with the anchors on the other side, form a triangle to help the tree grow surely on the path to recovery. Copyright © photograph April 10 2017. You will need the permission of Lime Park Heritage Trust to use this picture. All rights reserved.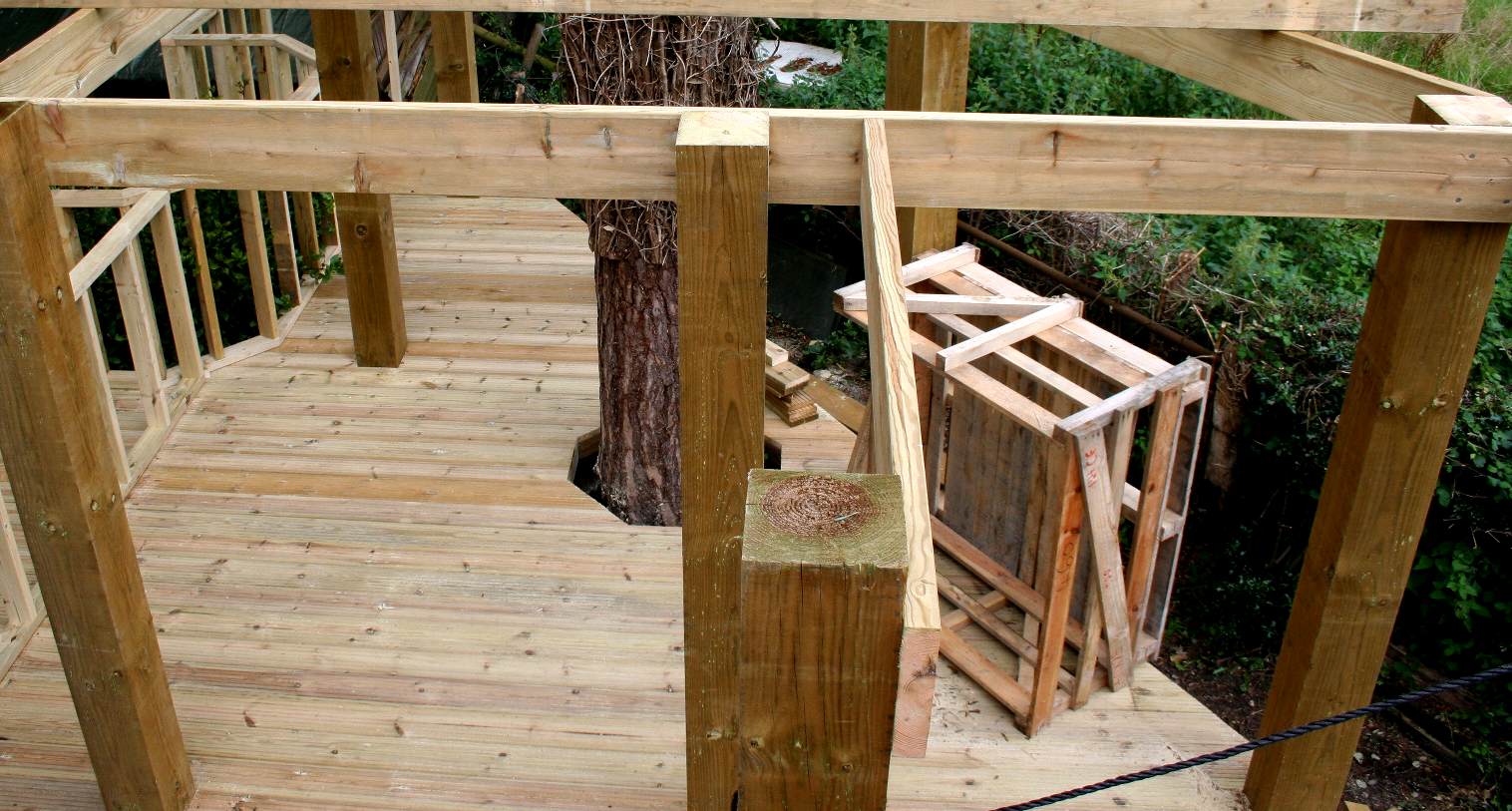 BANK - This scots pine was perched dangerously on an earth bank that kept sliding downhill into Lime Park. To help preserve the tree and stabilize the slide post were sunk into the earth around the tree. A substantial retaining wall was installed to halt the slide and the whole area decked for the enjoyment of the surrounding countryside. Handrails were needed to stop people inadvertently falling over the edge of the retaining wall. We could not find any Health & Safety guidelines for this, but we are sure the powers that be would approve. You do not need planning permission for pergolas provided that any platform is relatively close to the ground, like this example. As one of the largest and longest-lived trees in Lime Park, the Scots pine is a keystone species in the ecosystem, forming the 'backbone' on which many other species depend. The scots pine is the most widely distributed conifer in the world, with a natural range that stretches from beyond the Arctic Circle in Scandinavia to southern Spain and from western Scotland to the Okhotsk Sea in eastern Siberia. Copyright © photograph 11 August 2017. You will need the permission of the Tree Protection Trust to use this picture. All rights reserved. https://treesforlife.org.uk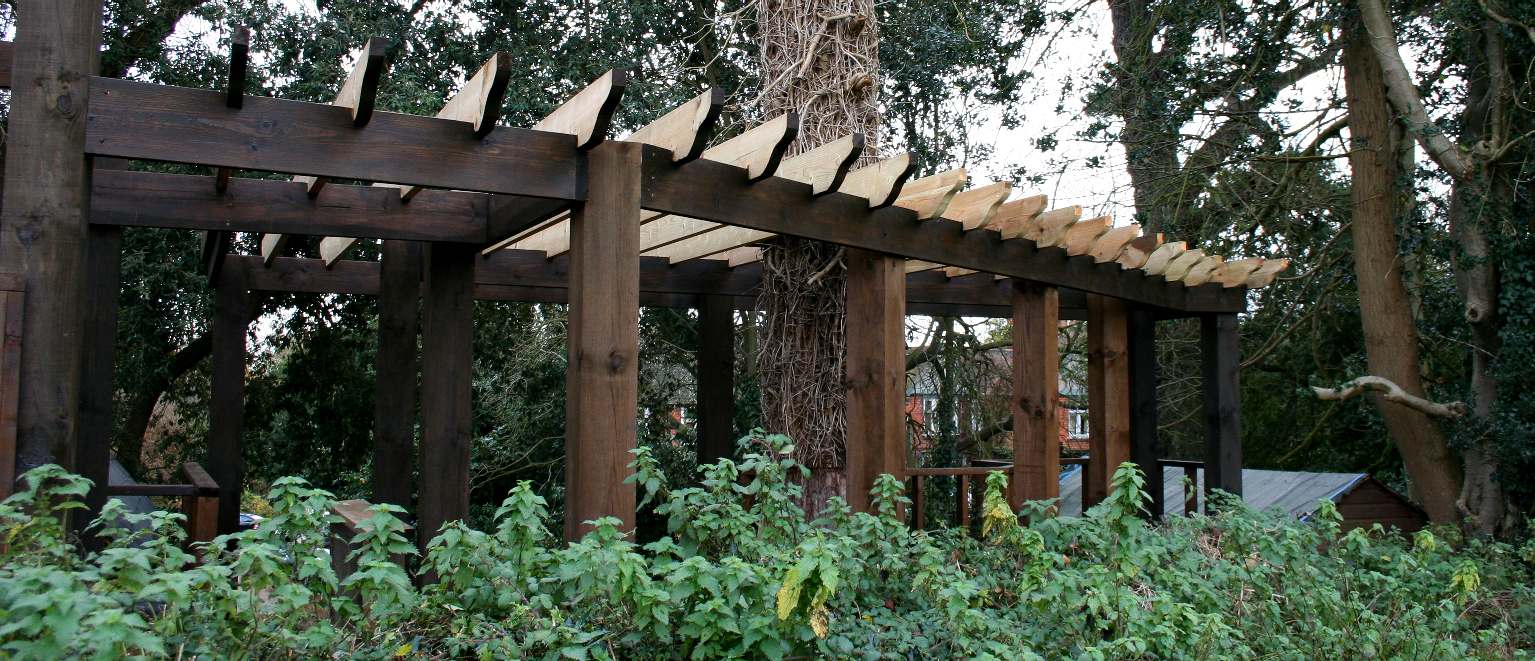 ALMOST INVISIBLE - Romanesque garden setting in Sussex blends in rather well to the surroundings. Not how the untreated overhead timbers draw attention, whereas the stained timbers do not and are all but invisible. Copyright © photograph 24 November 2017. You will need the permission of the Tree Protection Trust to use this picture. The Tree Protection Trust exists to protect trees that provide a contribution to the country scene. The scots pine and sycamore trees that this pergola is protecting were due to be cut down. With the bank slowly drifting south from the hill to the north and the local authority telling adjacent occupiers that these trees were on an unstable bank, the only solution was to stabilize the bank with a retaining wall. At the same time the trees were held in situ with multiple posts and collared to ensure that they stay upright in high winds. Planners did not like this pergola at first, but when it was explained why it was put up, they remained silent - having forgotten that they complained about these trees and wanted them taken down for the sake of safety. Treatment is far preferable and we've saved another couple of trees and locked up more carbon in the process. Isn't
TREES, OXYGEN & CARBON DIOXIDE
Have you ever wondered just how much oxygen one tree makes? Well, one acre of trees annually consumes the amount of carbon dioxide equivalent to that produced by driving an average car for 26,000 miles.

According to the New York Times, that same acre of trees also produces enough oxygen for 18 people to breathe for a year. Northwest Territories Forest Management say that a 100-ft tree, 18" diameter at its base, produces 6,000 pounds of oxygen.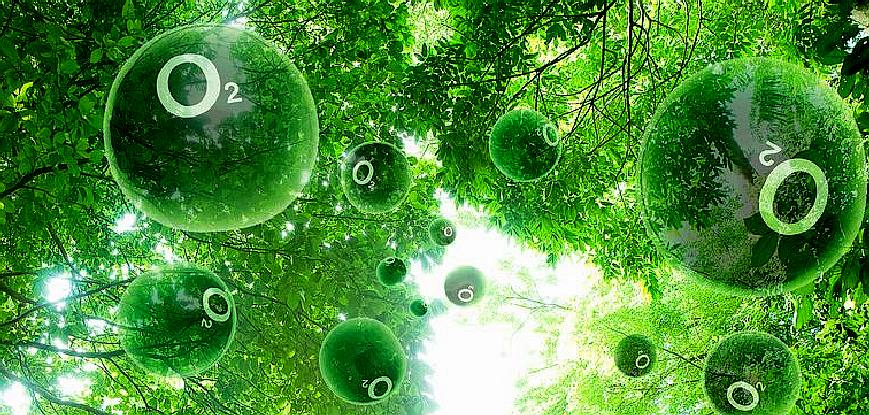 On average, one tree produces nearly 260 pounds of oxygen each year. Two mature trees can provide enough oxygen for a family of four according to Environment Canada, Canada's national environmental agency.

According to a U.S. Forest Service and International Society of Arboriculture joint publication, the mean net annual oxygen production (after accounting for decomposition) per hectare of trees (100% tree canopy) offsets oxygen consumption of 19 people per year (eight people per acre of tree cover), but ranges from nine people per hectare of canopy cover (four people/ac cover) in Minneapolis, Minnesota, to 28 people/ha cover (12 people/ac cover) in Calgary, Alberta. Now that is air to breathe while you think about it - or food for thought.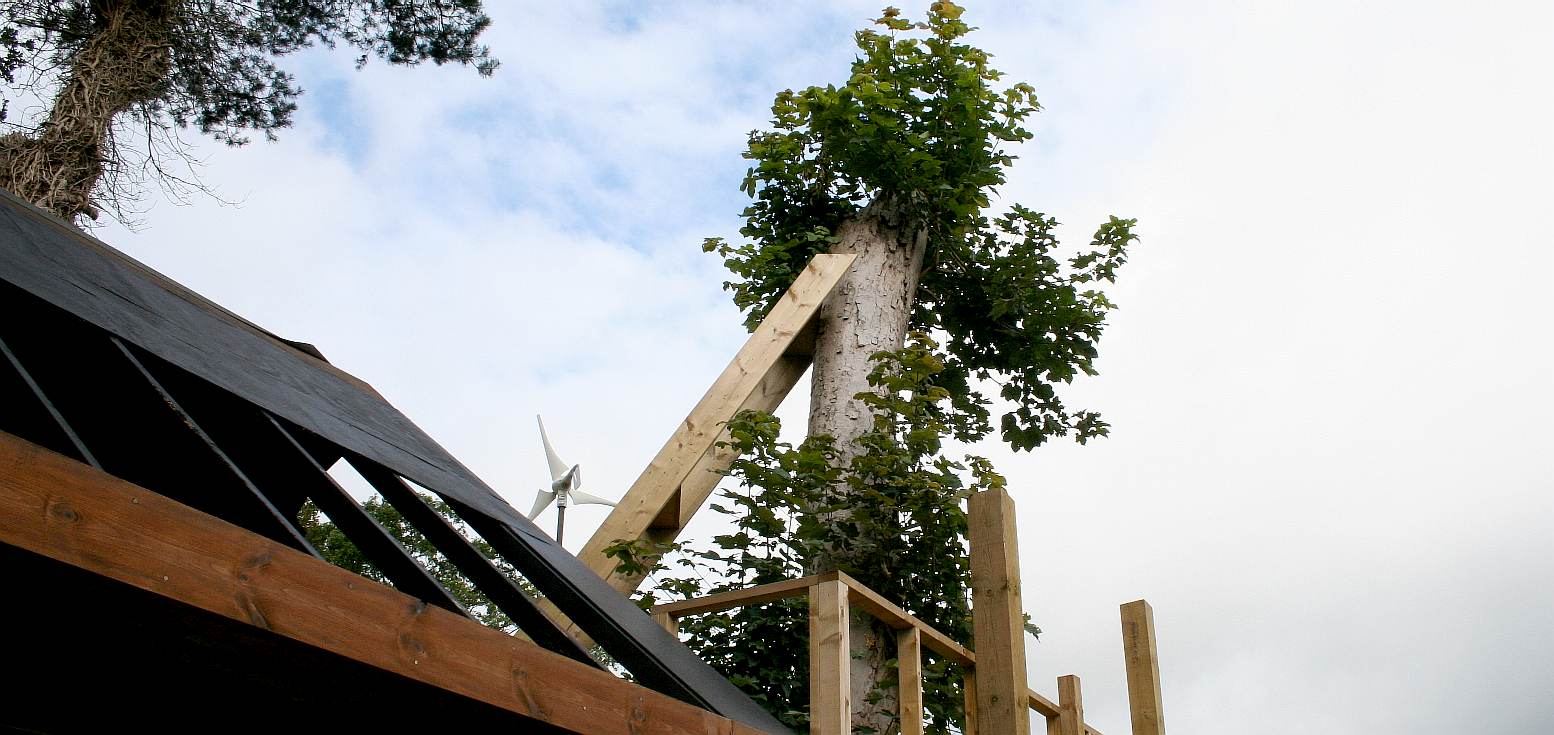 REGENERATION - One year on and this sycamore is showing promising signs of regrowth. It seems to know that it is loved and is responding to the help we are giving it. Trees produce oxygen and lock up carbon. Copyright © photograph 11 August 2017. You will need the permission of the Tree Protection Trust to use this picture. All rights reserved.

HERITAGE INDEX A - Z
BARCLAYS BANKING LET DOWN - MISSING ACCOUNT MONEY
CAMPBELL HALL - BLUEBIRD ELECTRIC CARS
GAS ENGINES - COAL CONVERSION, INTERNAL COMBUSTION
OBSERVATORY - HERSTMONCEUX CASTLE
PETE NELSON - TREEHOUSE MASTERS
SOLAR LADY - STATUE