On this page we provide samples of possible layouts for E and RE flatpacks. They are not shown to scale, but are drawings derived from the industry standard Autocad, which are of course all drawn to the same scale - and most factories can read .dwg files. Some of the features of these designs may take a little explanation, since the concept is for integrated construction.
MOBILE HOMES & HOUSES - WHAT IS THE DIFFERENCE ?
A mobile home is defined under the Caravans Acts as being constructed in two parts, such as to be moveable and not fixed to the ground. If the home is not in two parts and is fixed to the ground, it is a house.
INTERCHANGEABLE CONCEPT
Our house concept and our mobile home concept is the same; a high insulation shell reduces heating costs in winter and keeps you cool in summer. To this, we think most customers will want to add a method of capturing all of that free heat that hits planet Earth every day. The amount of energy our Sun directs to us is roughly 1.0kW per square meter. On that basis 3 square meters will in theory provide the same energy as that used to boil a 3.0kW kettle (a standard electric kettle element is 3.0kW - most electric fires are also around this figure).
Remember that all that energy is hitting your house every day. Not so much when it's cloudy of course, but on average a lot of energy is available free from nature. The problem is capturing it cheaply, and that is where our solar conservatory comes in.
NATIONAL PLANNING POLICY FRAMEWORK - CONSIDERATIONS
There is a requirement for councils to ensure that new homes generate energy locally to reduce climate change. These units capture heat energy and generate electricity, known as micro-generation. A community of these homes would qualify as macro-generation, making a serious contribution to a sustainable future and a Circular Economy.
CLIMATE CHANGE ACT 2008 & UNITED NATIONS SDGs
We also have to consider climate change and the other sustainable development goals of the United Nations for 2030. This concept complies with many SDGs. Where this concept is genuinely affordable, it helps to alleviate poverty as per SDG1 in the the renting society we have created become financial slaves. Where these units can be energy neutral they comply with SDG7 in that they generate renewable energy economically. In that there is less stress on the occupants of such low cost housing, SDG3 bites reducing mental illness. The low cost element of the equation can be said to assist SDG11, in that communities constructed of affordable units are sustainable, especially where made from wood, that also locks up carbon. Then there is SDG13 where well designed buildings with reduced energy demands alleviates climate change.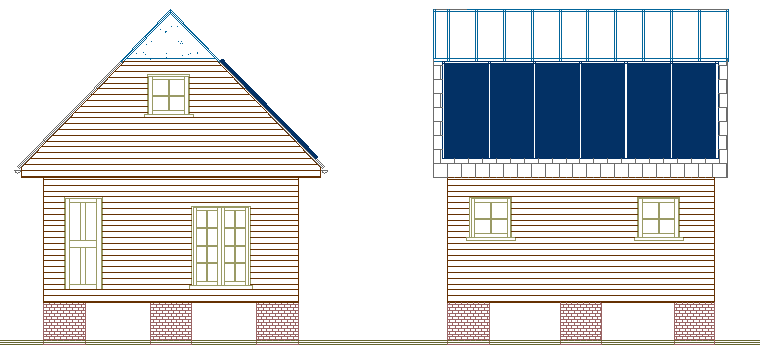 Utopia Tristar RE flatpack timber mobile home 20'x18' affordable starter home (POA) = 12 sq/m solar conservatory, which generates 12 kW during periods of intense sunshine. Thus if the sun shines for 6 good hours, you will capture 72kW/hrs of energy. 8 hours will yield 96 kW/hours and so on. Minus of course any losses in efficiency in conversion. If this mobile home were adapted to be a house, you would not see the pillars. Instead the pillars would be below ground level and could be mounted on concrete raft, or footings. All of this cost and customer preference dependent.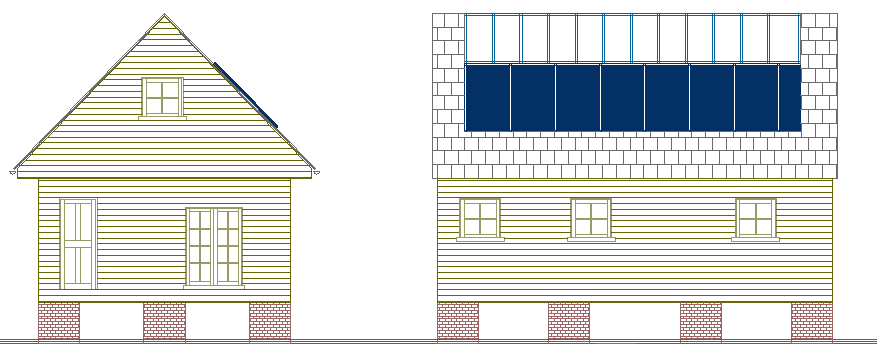 Utopia Tristar RE flatpack timber mobile home 28'x18' for couples & small families (POA)

Utopia Tristar RE flatpack timber mobile home 48'x18' family unit (POA). Note that as the house gets longer, the solar conservatory capacity increases and we must then add more storage tank capacity to match.
Integrated construction is the most economical, and that is what we are all about. For example, why pay for a roof, then cover it over with solar panels. Why not make the solar panels the roof. The solar conservatory is the peak apex of the roof. The roofing tiles you've saved goes to the cost of the solar conservatory. Simples. Remembering our 1kW per square meter rule, the bigger your solar conservatory, the more heat you can capture. The length x the width of the solar conservatory in meters, therefore determines how much energy per day you can capture, which we measure in kilowatts of energy for convenience.
The next problem is how do we store all that heat? The answer is that we heat water with the heat captured. So the amount of heat you can store is directly related to capacity of water liters x the storage temperature. In winter we might use heat from the solar conservatory to heat radiators in the house directly. Once the house is up to temperature, then heat is diverted to the storage tanks for use at night. The well insulated walls reduce the amount of heat that we need, but we still need to capture the heat in the first place.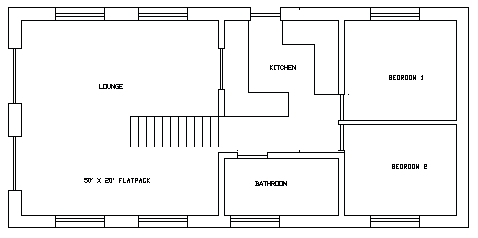 Open plan layout for a 48x18 mobile home - compliant with the Caravans Act (staircase shown if used with a 1st floor as in a house, which is not then a mobile home)

The upstairs of a 48x18 house - 3 bedroom example with rectangular roof-lights which must be on the north facing side. You need permission for a house to use a layout like this with the floorplan above. Bedrooms 2 and 3 are small

The upstairs of a 48x18 house - 2 bedroom example with rectangular roof-lights which must be on the north facing side. You need permission for a house to use a layout like this with the floorplan above. This layout has two large bedrooms.
Once again the answer comes in integration. Our designs sit on special legs that are adjustable for uneven ground. So the unit can sit on ground with some undulations or tilt - saving you even more money. We're not about to waste all the space we've created with our legs. No. We use the legs to hold well insulated water tanks, into which we pump water from the solar conservatory - but only after it has been heated. No pumping takes place in the wrong conditions. Using this method we create a heat store. We need to store as much heat energy as you are likely to need for the evening, with a bit extra in reserve for poor weather days.
Storing heat is an expensive business, but this way we're driving down the cost of an installation that would normally be at least twice as much. The stored heat is fed to normal room radiators or heat exchangers as a customer may specify. The diagram below illustrates a simplified circulation loop.
Click on the picture above to see a solar conservatory being added to an existing building in Sussex. You will find that it is a lot of work as an add-on, whereas, if such technology is included during the original construction stage, significant cost and time savings are made.
The Utopia Tristar 'E-pax' (energy flatpacks) are ideal to live a comfortable ecologically sound lifestyle at affordable prices. These units are still under development - so we cannot supply immediately. That is the problem with a good idea, but we wanted to share it with you even where full size tests have yet to be done. In scale models it all works beautifully.
It would pay anyone interested in a home from 2014, to register their interest with us. We can then work together to agree as specification that we can quote against.
Our fitter has built houses like this before, all save for the solar heat collection system, but we cannot afford to let him out of the development loop. So we will supply comprehensive instructions and online and telephone back-up, for anyone using outside erectors.
We are looking to supply 20'x18', 28'x18' and 48'x18' units as standard sizes, and then other custom sizes as affordable flat-packs, that comply with the Caravans Act, starting at £25,000. These units may also be installed permanently as houses with bedrooms on a first floor subject to the appropriate planning permission. Each project stands alone, due to the infinite variations on interior design and exterior finishing.
We would not normally supply kitchens or bathrooms due to the vast range of styles and price difference from one manufacturer to another. Bathroom kits start around £150 (bath, sink, toilet) and kitchens (sink, taps, cupboards) from £900.
These units can replace an existing mobile home without the need to apply for a fresh permission. We can also apply for you for planning permission on any suitable plot of land that you own - and for this would recommend that the specification should be for an RE pack, which makes planning permission easier to obtain.
Utopia Tristar E-Pax have a 270mm air gap between inner and outer walls for superior insulation. Other mobile homes typically offer only an 80mm air gap. E-Pax walls may be triple insulated with quilts and a honeycomb divider as an option to increase thermal insulation.
To complete the package, we would recommend triple glazing insulation for windows and doors - to comply with the European 2020 zero carbon regulations. If you cannot run to that, at least a big-gap double glazing system. We don't use branded products, unless a customer specifies that and is prepared to pay the extra.
With a friendly carpenter, or a good personal knowledge of DIY, these homes may be installed (minus wiring and plumbing in about a week. No ground works are necessary, except for permanent installations for sanitation.

Open plan layout for a 3 bedroom 60x18 mobile home - Caravans Act compliant

Open plan layout for a 2 bedroom 60x18 mobile home with en-suite wetroom - Caravans Act compliant
The Utopia Tristar 'RE' (renewable energy) Flatpack - Is based on the same footprints as the 'E' version, shown above. The RE versions include a renewable energy kit which includes:

1. A solar conservatory and patent heat store
2. Solar PV panels and battery store
3. One or two windgens and
4. A patent heat store control system

The RE kits add substantially to the cost of a home, but one should consider the longer term investment and offset in living expenses - of which energy is one of the biggest, after food and rates. It is not economical to convert an E pack home to an RE pack home, unless you include a solar conservatory and the adjustable legs from the start.

The energy that an ideal setup captures would significantly reduce fuel bills. You may even sell your excess electricity to the grid, after charging your battery banks first, so reap an income - which energy companies will not be that happy about.

Construction of the 12.52 (317.5mm) wall units. To this must be added the thickness of the feather-edge boarding or other external cladding, not shown in this diagram. These units slot together on the floor, once the floor cassettes have been joined.
Take your pick. We can offer standard size sustainable flat-pack kits and a fast-track planning service should that be required. All prices are on application.
(Prices liable to fluctuation due to volatility of the international timber market)
AFFORDABLE | CLIMATE | DEVELOPERS | ECONOMY | FLOOD | HISTORY
HOMES | LADDER | MORALS | POVERTY | PROPERTY | SLAVERY | SLUMS | WEALTH