ROLLING STOCKS OF AFFORDABLE LAND - EXTRACT Draft National Planning Policy Framework
"The purpose of planning is to help achieve sustainable development.
Sustainable means ensuring that better lives for ourselves don't mean worse lives for future generations.

Development means growth. We must accommodate the new ways by which we will earn our living in a competitive world. We must house a rising population, which is living longer and wants to make new choices. We must respond to the changes that new technologies offer us. Our lives, and the places in which we live them, can be better, but they will certainly be worse if things stagnate.
Sustainable development is about change for the better, and not only in our built environment. Our natural environment is essential to our wellbeing, and it can be better looked after than it has been. Habitats that have been degraded can be restored. Species that have been isolated can be reconnected. Green belt land that has been depleted of diversity can be refilled by nature – and opened to people to experience it, to the benefit of body and soul.
Our historic environment – buildings, landscapes, towns and villages – can better be cherished if their spirit of place thrives, rather than withers.
Our standards of design can be so much higher. We are a nation renowned worldwide for creative excellence, yet, at home, confidence in development itself has been eroded by the too frequent experience of mediocrity. So sustainable development is about positive growth – making economic, environmental and social progress for this and future generations. The planning system is about helping to make this happen.
Development that is sustainable should go ahead, without delay - a presumption in favour of sustainable development that is the basis for every plan, and every decision. This framework sets out clearly what could make a proposed plan or development unsustainable.
In order to fulfil its purpose of helping achieve sustainable development, planning must not simply be about scrutiny. Planning must be a creative exercise in finding ways to enhance and improve the places in which we live our lives."
Rt Hon Greg Clark MP
Minister for Planning
July 2011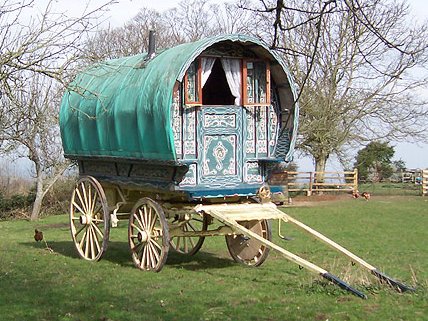 Affordable and sustainable - a nice example of a traditional Gypsy wagon
that council's are doing their best to eradicate. Silly sausages! This is one
way to reduce housing shortages with a zero carbon footprint
VILLAGES OF THE FUTURE
It is proposed that:
1. self build cooperatives,
2. Local authority housing and
3. Social landlord schemes
could base their business models on the following 100 unit village development:
East
<- North -|- South ->
West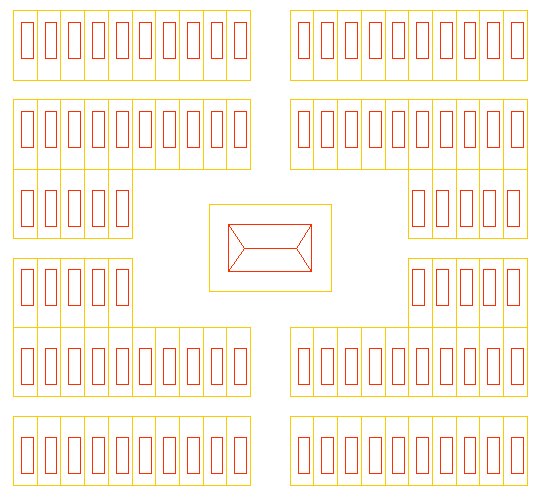 VILLAGE 100 - A Utopia Tristar © self-build or social housing project. One hundred affordable units, including shops in a central village square. The results of intelligent integration (energy implications) and the development costs involved, etc, have yet to be studied.
TOWNS OF THE FUTURE
And that town extensions, or fresh towns might be created by combining 9 Village modules as per the drawing below. One hundred and fifty such developments spread across the United Kingdom, would meet current Government targets for 150,000 new affordable homes for 2013.
North
.
West -- East
.
South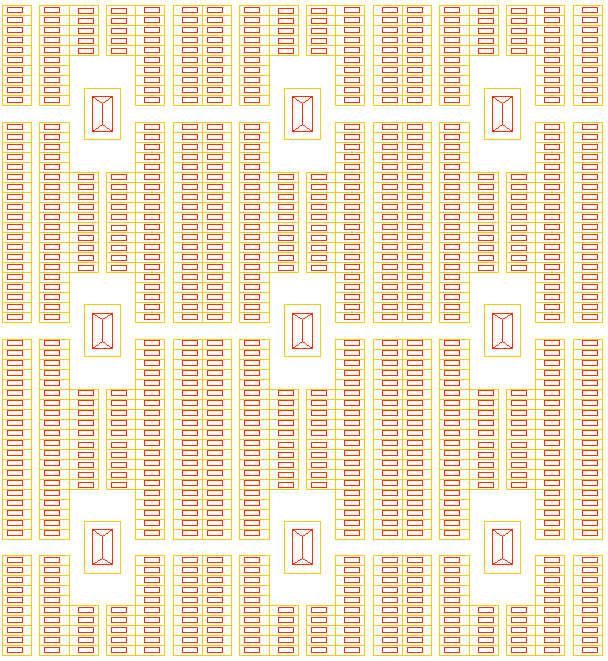 TOWNSHIP 900 - A Utopia Tristar © council or social housing project. Nine hundred affordable units, including: a) Garage servicing b) Community hall c) Supermarkets d) Sports complex e) Restaurants & cinema f) Surgery g) Bank & post office h) School & library i) Cricket & football pitches - in the village squares. You are never far from something you may want.
COUNCILS BEHAVING BADLY
In May 2012, the Government highlighted that 232,000 new households are forming in England each year, but this new research has revealed that local authorities in England have now reduced their housing targets to around 160,000 per annum, a reduction of 13% from the Regional Spatial Strategies (RSS) housing target set for England. This equated to around 185,000 new homes per year, revealing a large discrepancy between the three figures of over 70,000 homes.

The findings come from the third annual Housing the Nation report, which is put together by a group of property experts led by public and community affairs consultants Tristan Fitzgerald Associates (TFA) and BNP Paribas Real Estate, the leading property adviser, and looks at the challenge of delivering housing as well as putting forwards recommendations to the Government on how to improve delivery. Other experts who gave input to the report included: Liz Peace, Chief Executive of the British Property Federation; Ian Baker, MD of Linden Homes; Peter Truscott, Divisional Chairman at Taylor Wimpey; Pete Redfern, Group Chief Executive of Taylor Wimpey and Steve Morgan, Chairman of Redrow Homes.

The research also revealed that only 110,000 new homes were actually completed in England in 2011, whilst current new home completions in Q1 2012 are 18% lower than Q1 2011. This could lead to annual completions in 2012 falling below 100,000 for the first time since the height of the recession in 2009.

Tim Cann, head of residential at BNP Paribas Real Estate said: "With more than 1,800,000 households on council waiting lists for new homes, the third Housing the Nation report revealed that the Government is again on track to miss its targets, by a worryingly large number. To put this into perspective, losing 85,000 homes is like losing a town the size of Bournemouth. As the UK continues to lack the new housing it requires, effective changes need to be made in order to accommodate those still waiting for affordable housing."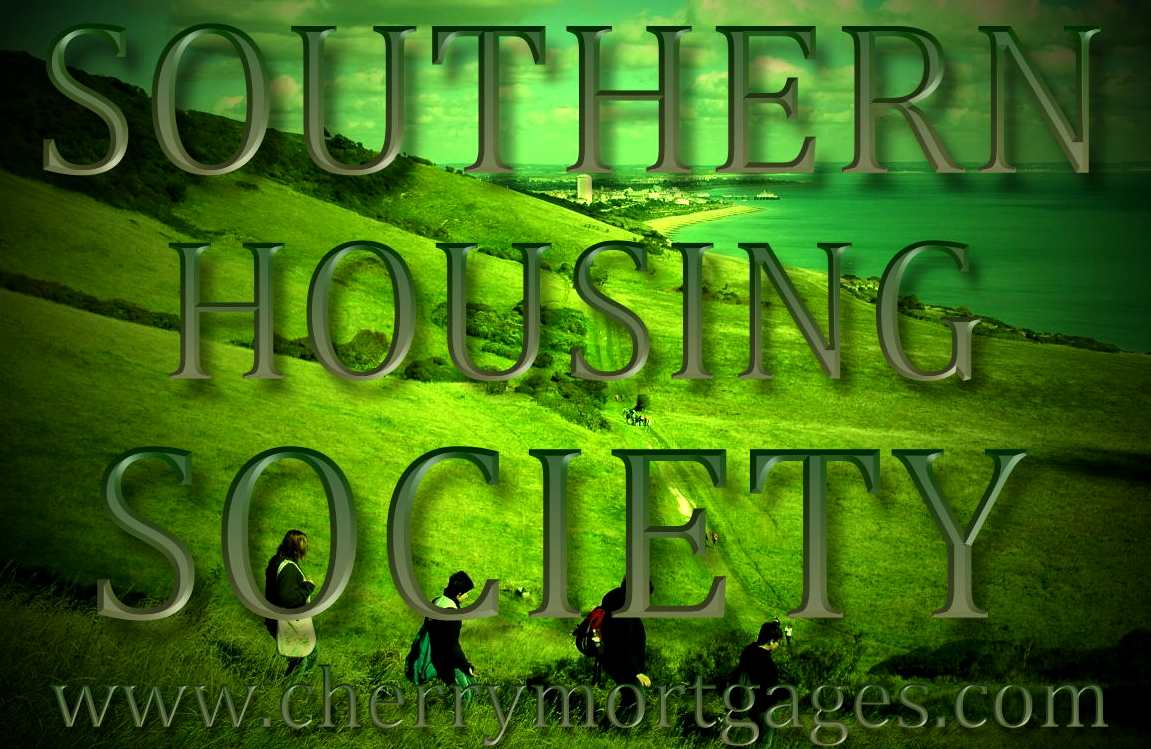 The experts' recommendations which were delivered to the Government are:
* Release green belt land in the constricted South East and pump prime development in the North
* Publicise league tables on housing targets and delivery by Local Authorities with penalisation for those falling below
* Public and private sector initiatives needed to tackle restrictive mortgage conditions
* Plan makers and developers to be more creative in the way they engage with communities to outweigh anti-development
groups (members) within their communities .
* CIL money raised to be spent quickly and visibly on community facilities to secure community buy-in to new development in
their areas.
* Planning application fees should be increased but on the provision that the quality and speed of service is made better in
return - NOTE: Any increase is fees is counter productive when it comes to affordability.
* Create special 'development projects team' within the Government to prevent major schemes being stalled by burdensome
local demands.

The experts conclude: 'Our recommendations for the Government aim to support housing development quickly as there is clearly a continued need for quality housing and economic growth."
https://www.realestate.bnpparibas.co.uk/government-could-miss-housing-target-by-85-000-homes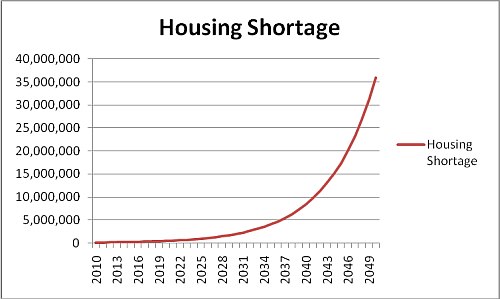 SMART HOUSES
Properly integrated buildings could become the power stations of the future. We are developing our system bottom-up with smart energy management for warmth and power, that our E-Pax units may be integrated as communities, taking into consideration charging facilities for electric vehicles at home.
RE-PAX SMART ENERGY STORAGE
Our smart heat store system is the subject of a patent application. No other flat-pack house or mobile home includes this technology. Enquiries from manufacturers of prefabricated homes and from construction companies are welcome.
JOIN IN
Join us in the drive for a green economy. Email or call to register your interest in these exciting sustainable developments for a better Britain. We are actively seeking development partnerships with a view to forming a consortium concerning bids for European, Canadian and other international research funding grants.
(Prices liable to fluctuation due to volatility of the international timber market)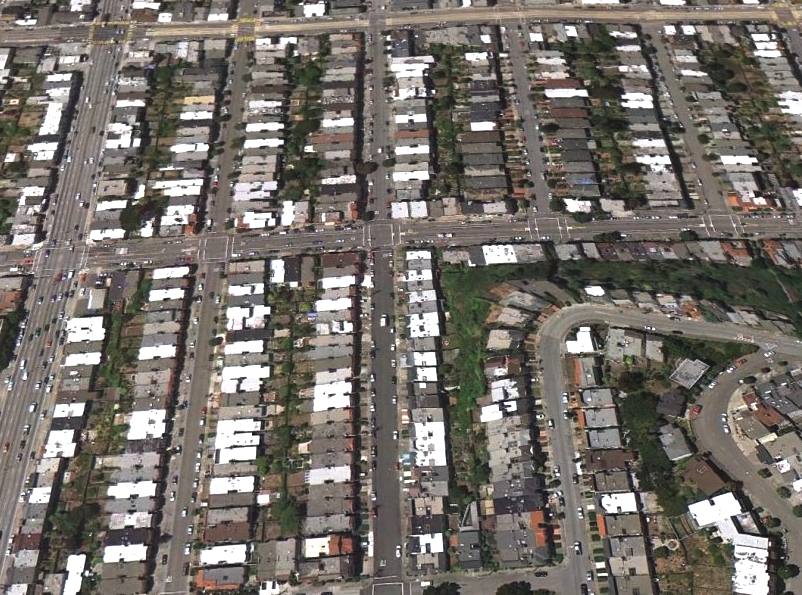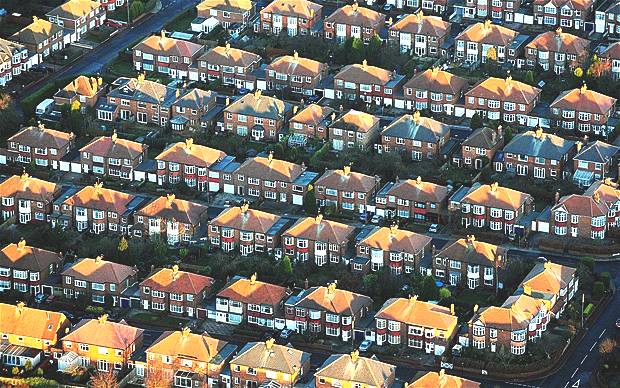 Hundreds of clay caves that are energy hungry.