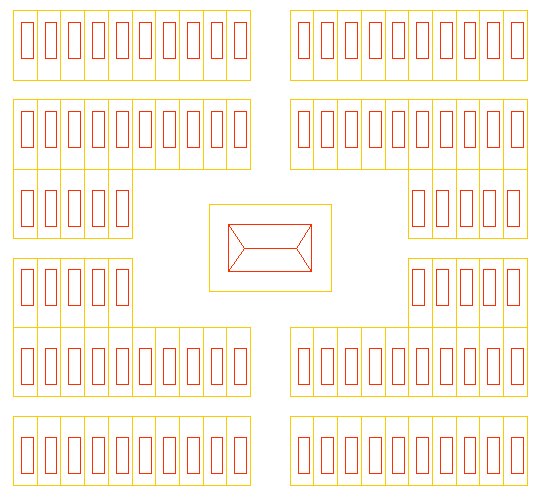 VILLAGE 100 - A Utopia Tristar © self-build or social housing project. One hundred affordable units, including shops in a central village square. The results of intelligent integration (energy implications) and the development costs involved, etc, have yet to be studied. With the design above, no house in a village is more than 150 meters from a service.
SMARTER HOUSES
Properly integrated buildings could become the power stations of the future. We are developing our system bottom-up with smart energy management for warmth and power, that our E-Pax units may be integrated as communities, taking into consideration charging facilities for electric vehicles at home and intelligent monitoring of 'Macro' generation, for power sharing. To even think about this, a basic unit needs to be capable of generating and storing electricity and heat.
ELECTRIC VILLAGES & TOWNS
Whether small clusters of buildings in a village development, or a major urban town expansion, there is the need to integrate electric vehicles into our society with power sharing and storage. This may be achieved with inter-connected heating and power systems at the single building unit level fed into a community of such units.

We believe that this will be the backbone of modern societies and economies. By developing local infrastructure that
is inter-connected with larger-scale infrastructure using affordable principles, sustainable growth for prosperous families is assured.

Renewable energy may advantage itself of internet technologies to create a distributed energy grid, with individual buildings becoming the power stations of the future, to enable energy trading/sharing.
TRANSPORT
New towns and villages should be designed from the ground up with a view to incorporation of sustainable transport. One such proposed scheme is Project Devonshire.



It is our vision to be able to:-

* Research the enabling technologies that could catalyze buildings in becoming 'the power stations of the future.'

* Develop smart bottom-up systems driven by the need for warmth, power and transport.

* Integrate DC power systems to supply consumer electronics from DC sources without the need for conversion to AC to include integrated charging systems for portable devices.

* Develop energy harvesting and storage systems on a Macro system basis.

* Integrate smart charging and storage facilities for electric and/or hydrogen vehicles.

* In conjunction with the above, develop Information Communication Technology (ICT) as an enabler, for heat and power sharing.

* Develop protocols to enable the trading and sharing of heating and power that such village communities prosper.

* Ensure that our RE Macro developments are prepared for the digital electricity era where appliances can intelligently
communicate with supply networks to automatically manage energy demand.

* Work as a team as part of a broader approach to energy management, waterways and green spaces for heat balancing.
RE-PAX SMART ENERGY STORAGE SYSTEM
Our smart energy/heat store system is the subject of a patent application. No other flatpack house or mobile home includes this technology. Enquiries from Councils considering such integration projects are welcome - especially concerning sharing development risk as part of a consortium.
JOIN IN
Join us in the drive for a green economy. Email or call to register your interest in these exciting sustainable developments for a better Britain.
Email: homes@cherrymortgages.com or phone (UK only) and ask for James or Leslie:
OUR OBJECTIVES:
| | |
| --- | --- |
| * Energy self sufficiency | = sustainable |
| * Low cost | = sustainable |
| * Zero carbon | = sustainable |
| * Social housing | = sustainable |
| * Micro & Macro generation | = sustainable |
| * Modular construction | = sustainable |
| * Flood resistance | = sustainable |
(Prices liable to fluctuation due to volatility of the international timber market)
---