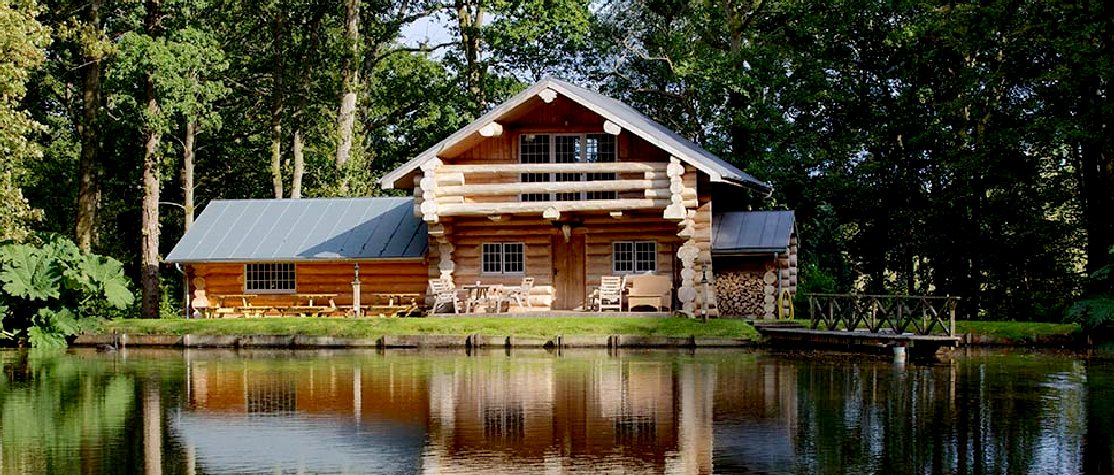 CENTRE STAGE - Taking a great picture of a log built house or cabin is difficult if you want to see the details of the build. The picture above of a house in the UK is well balanced, almost picture postcard stuff, that says it all.
Many houses that are built of logs are considered to be works of art by an admiring public, to include tree houses and log cabins. The artisans that craft such houses are extremely skilled woodworkers with considerable patience. The subject is one that attracts interest from architects and photographers from around the world who are more than willing to share their experiences, technical and other information using the internet with postings on search engines and in other media articles, websites or other publication services (media). On this page and other pages on this site, we review such publications and the art of photographing these incredible buildings in order that researchers or those who are interested in design photography or living in more natural surroundings (and capturing that information) might get a more informed feel for the subject.
Please email us if you would like to share your experiences on these web pages with our appreciative audience and note that this website is constantly being upgraded as we discover quality art and articles that tend to promote sustainable living and lifestyles - aiming for a truly circular economy. If for any reason you no longer want your pictures featured on any page on this site, simply email us and we will remove any subject matter that you'd rather not share any longer, or would like replaced with a superior version, and we'll do our best to sort that for you.
WHAT IS A LOG HOUSE
A log house (or log home) is structurally identical to a log cabin (a house typically made from logs that have not been milled into conventional lumber). The term "log cabin" is not preferred by most contemporary builders, as it generally refers to a smaller, more rustic log house such as a hunting cabin in the woods, or a summer cottage.

Log construction was the most common building technique in large regions of Sweden, Finland, Norway, the Baltic states and Russia, where straight and tall coniferous trees, such as pine and spruce, are readily available. It was also widely used for vernacular buildings in Eastern Central Europe, the Alps, the Balkans and parts of Asia, where similar climatic conditions prevail. In warmer and more westerly regions of Europe, where deciduous trees predominate, timber framing was favored instead.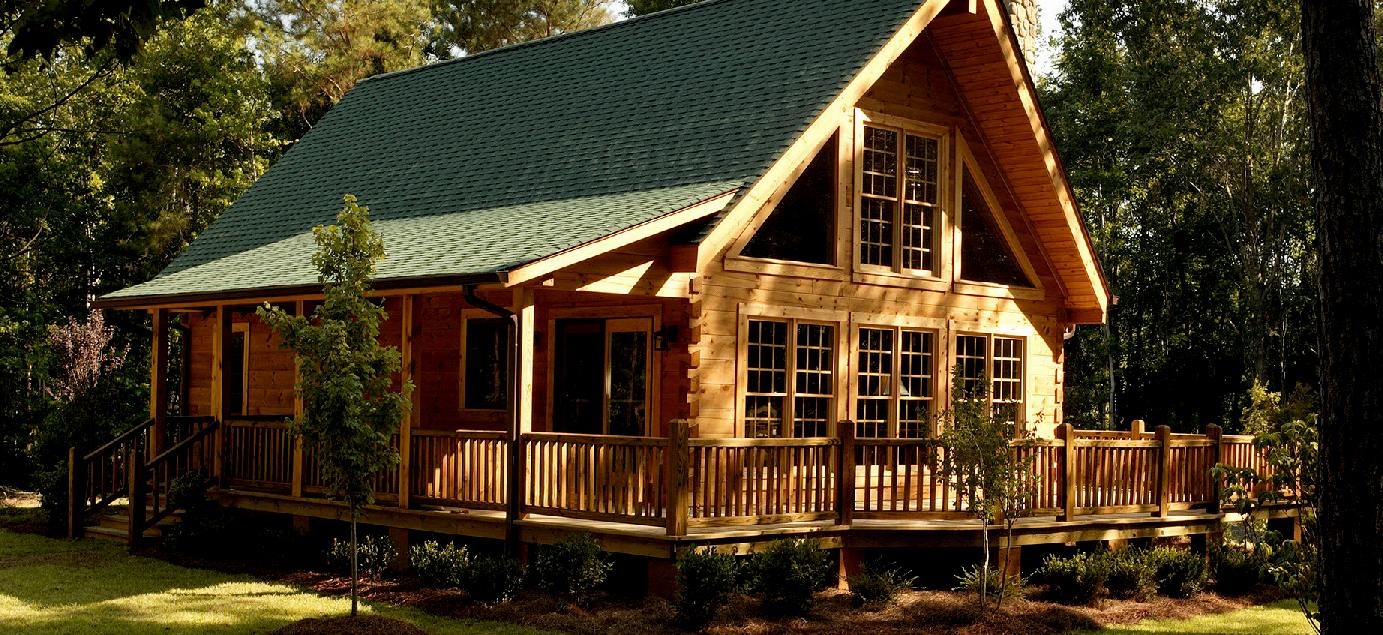 US HEAVEN - This American timber dream house is nicely proportioned, with the balcony and simple handrails working to complete the picture.
LOG TYPES

There are several types of logs used for log houses:

* Handcrafted: Typically made of logs that have been peeled, but otherwise essentially unchanged from their original appearance as trees

* Hewn logs, logs hewn by axe to an oval, hexagonal, octagonal or rectangular section

* Sawn logs, logs sawn to a standard width, but with their original heights

* Milled (also called machine-profiled), made with a log house moulder: Constructed of logs that have run through a manufacturing process which convert them into timbers which are consistent in size and appearance

Handcrafted log houses have been built for centuries in Scandinavia, Russia and Eastern Europe, and were typically built using only an axe and knife. The Scandinavian settlers of New Sweden brought the craft to North America in the early 18th century, where it was quickly adopted by other colonists and Native Americans. Possibly the oldest surviving log house in the United States is the C. A. Nothnagle Log House (circa 1640) in New Jersey.

Pre-fabricated log houses for export were manufactured in Norway from the 1880s until around 1920 by three large companies: Jacob Digre in Trondheim, M. Thams & Co. in Orkanger, and Strømmen Trævarefabrik at Strømmen. They were factory built from sawn or milled logs, numberes and dismantled for transportation, and reassembled on the buyer's site. Buyers could order standard models from catalogs, custom-made houses designed by architects employed by the companies, or houses of their own design. Log houses from Thams were exhibited at the Exposition Universelle (1889) in Paris.

During the 1920s the first American milled log houses appeared on the market, using logs which were pre-cut and shaped rather than hand-hewn. Many log houses today are of the milled variety, mainly because they require less labor-intensive field work than handcrafted houses. There are about 500 companies in North America which build the handcrafted, scribe-fit type of log house.
A selection of beautifully crafted log houses through the ages
COMPONENT PARTS
The logs in log houses have a varying degree of moisture content; all logs have moisture when freshly cut. In the case of handcrafted logs moisture will naturally leave the timber, drying it out until it stabilizes with its climate. This drying-out causes movement and shrinking of the log's diameter. As logs and timbers dry, the differential shrinkage (radial versus tangential) causes small cracks (known as "checks") to open slowly over time. Checking is a natural process in both air- and kiln-dried logs. This occurs in all log houses regardless of construction method or how the timber is allowed to dry, and is considered normal.
Milled logs are processed in a different manner from handcrafted logs. Logs destined to become milled logs may become one of several types, depending on the desired quality and results.
GREEN LOGS
Logs that are cut from the forest, brought to a mill or to a log-house construction yard, have their bark removed and are used to build a log-house shell (handcrafted log houses), or sent through profiling machines (manufactured logs) are usually referred to as "green" logs if they have not been air- or kiln-dried. "Green" does not refer to color, but to moisture content (MC). The actual moisture content of "green" logs varies considerably with tree species (cedar, fir, spruce, pine etc.), the season in which it was cut, and whether sapwood or heartwood is being measured. Green logs may have a moisture content ranging from about 20% to 90% (the oven-dry method of measuring MC).

One type of air-dried log is "dead standing," which refers to trees which have died from natural causes (bug kill, virus, fire etc.) and cut down after they died. Standing dead trees may be cut one month or several decades after they died, so the term "dead standing" does not necessarily mean the logs have dried down to equilibrium moisture content. Dead standing logs can be green, or more-or-less dry.

After construction, green logs dry in service in the log building. Within about four years, green logs which are part of a completed log house reach equilibrium with local conditions and have an equilibrium moisture content (EMC) of between 6% and 12%. The actual EMC varies with local climate, season and location.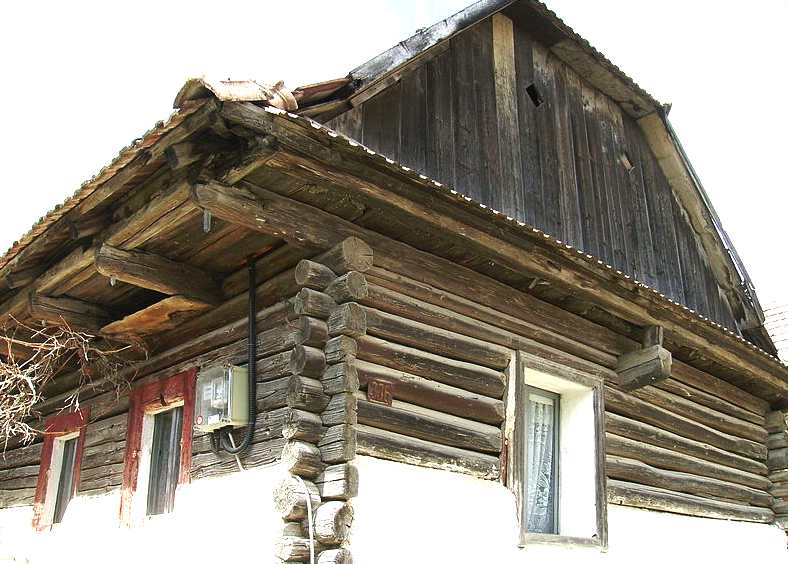 Transylvanian log built house, Romania
AIR DRIED LOGS

Some log home companies let the fresh-cut logs (or milled timbers) sit outside in the open air to dry naturally. The timbers may be stacked with spacers (known as "stickers") between them. This process allows the moisture content of the logs to naturally fall as the timber dries. In areas of high humidity, it may require as much as one year per inch of log thickness to dry. Arid climates may require less. A log with a diameter of 8 inches will usually reach equilibrium in about 18 months in the Rocky Mountains of North America. Air circulation is critical or the logs may begin to rot before properly drying, especially in humid regions. If the logs are to be dried to equilibrium with the local climate the process may take several years, depending on the location and size of the timbers. In some environments, the logs must be kept under some type of roof or cover to reduce the impact of rain storms on the drying process.

Once the logs have dried for the desired length of time, they are profiled prior to shipping. Profiling usually does not take place until shortly before shipment, to ensure that the logs stay as uniform as possible. It is uncertain whether this process is advantageous; it depends on many factors such as local climate, wood species, its size, and the location of the log structure.
Kiln-dried logs

Mills that have a kiln on site have the option of artificially accelerating the drying process. Green timber is placed inside a large oven, where heat removes moisture from them; however, they can suffer severe checking and cracking if the kiln controls are not properly monitored during the drying process. Use of a kiln can reduce the drying time from many months to several weeks. Kiln-drying usually results in an average moisture content of 18-20% ("average" means the average moisture content of the outside and the center of the log).

Since logs reach equilibrium moisture content at about 6% and 12% (in North America); since most kiln-dried logs are dried down to about 18% to 20% moisture content kiln-dried logs can be expected to shrink and settle over time, but to a lesser extent than green logs. Common varieties of softwood lumber (such as framing lumber) are dried to a somewhat higher moisture content.


LAMINATED TIMBER

"Laminated" or "engineered" logs are a different approach to log-house building. Full trees or (alternatively) sawn cants (unfinished logs to be further processed) are brought to a mill with a dry kiln, the bark is removed and the trees are sawn into boards usually no more than two inches thick. These boards are then taken to the dry kiln, where (because of their size) they can be dried without causing severe damage to the wood. Timber destined for glue lamination must be brought down below 15% moisture before the lamination process will work, so typically these timbers are dried to around 8-10% moisture. The drying process varies on the species of lumber, but can be done in as little as a week. Once the drying process is complete the planks are sent through a surfacer (or planer), which makes the face of the lumber perfectly smooth. These planks travel to a machine, which then spreads a special glue on the interior boards.

Depending on the type of glue and type of mill, there are two ways to finish the lamination process. One type of glue reacts with radio-frequency (RF) energy to cure the glue in minutes; the other uses a high-pressure clamp, which holds the newly-reassembled timbers under pressure for 24 hours. Once the glue has dried, the result is a "log cant" that is slightly larger than the buyer's desired profile. These log cants are run through a profiler, and the end result is a log that is perfectly straight and uniform. Some mills are capable of joining together small timbers by using a combination of face and edge gluing and a process known as finger- jointing. Boards which would be scrap at another mill may be used in the center of a laminated log or beam to minimize waste.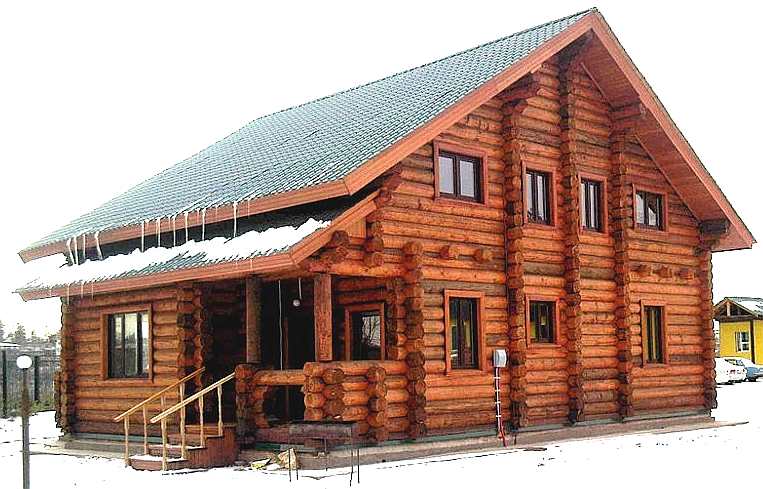 A large log built house in Russia, winter refuge


TYPES OF MILLED LOGS

Milled log homes employ a variety of profiles which are usually specified by the customer:


* D-shape logs: round on the outside and flat inside

* Full-round logs: fully round inside and out

* Square logs: flat inside and out, and may be milled with a groove which could be chinked. When dealing with milled logs, chinking is a personal preference and not required to seal a house; however, a log house will eventually leak if it is not properly sealed.

* Swedish Cope logs: round inside and out, with a half-moon-shaped groove on the bottom


Nearly every profiled log on the market features an integral tongue and groove milled into the top and bottom of the log; this aids in stacking, and reduces the need for chinking. Wood is not airtight — caulking or chinking will improve energy efficiency.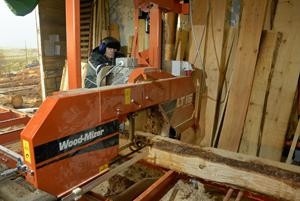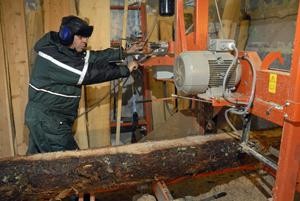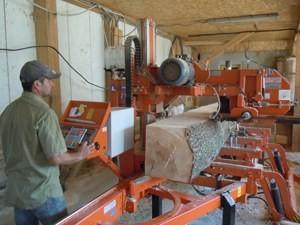 WOOD MIZER - [LEFT, CENTRE] Michael Dutton, ex electrical engineer with the Royal Corps of Signals and the Wood Mizer small band sawmill in Scotland [RIGHT] Eduard Ichim with a Wood Mizer sawmill in Romania.
MILLING MACHINERY MARCH 2010
A Scottish manufacturer of log cabins and other dwellings has improved his prices and reduced his 'carbon footprint' by eliminating his wood waste. At the same time he appears to be beating the recession.

Michael Dutton, 50, formed The Tsarina Imperial Dacha Co Ltd in 2007 to build log structures, in Delmellington, Ayrshire. He explains the exotic company name with family and his own Russian connections. He further explains that he buys locally sourced Scottish softwood logs in the round to make the cabins.

Actually, his product range includes two- or three-bedroom log houses, garages, summer houses, stables, woodsheds, 'Wendy' houses and fishing or shooting lodges. All are produced by proven methods and systems with the emphasis on maintaining traditional styles.

He buys pine logs in the round from local estates and harvesting companies which he processes on his specialised log rounding machine which 'rounds' and delivers logs to the required shape complete with joints and notches. However, whatever the diameter of the trees everything except the finished product used to be wasted. He found himself throwing away 50% to 75% of his timber, which naturally he regarded as commercially and environmentally unacceptable.

The problem was overcome by introducing a small band sawmill which now squares the logs, in effect salvaging the timber that was formerly shavings waste for manufacture of other components. Prior to the mill's acquisition he had to fill a 4m3 trailer daily with waste, whereas now the trailer takes 15 days to fill.

Also the thin kerf technology means he gets yet more product from each log. Furthermore, the now-minimal sawdust and shaving waste is donated locally for cattle bedding. Waste is history with the exception of his first cuts which he is also in the process of disposing of locally for use by his local 'community-on-community' projects.

What used to be jettisoned is, by virtue of its quality, now used to make floorboards, decking, saunas, hot tubs, fencing, roofing boards, sheds, gates, doors, windows, stairs and other products. Thus, 100% of his timber (approximately 300m3-plus p.a) now is put to good use.

Consequently, he is able to sell his structures at more attractive prices than competitors; a welcome bonus. Indeed, he is able to sell on some surplus off the saw as useable lumber at GBP160/m3. This year he will increase profit by 200%!

Equipped with his new Wood-Mizer LT15 band sawmill, which he and the two lads who help him find easy to use, he expects to produce more cabins in 2009 faster than was previously possible.

The extra benefits of the band sawmill leads Michael Dutton to forecast greater cabin output capabilities in 2010, representing an approximate, further 200% growth. He is particularly impressed by the mill's inherent thin kerf technology, commenting:

"I understand that the kerf of circular blade sawmills is from six to nine millimetres whereas most bandsaws enjoy a 3-4mm kerf.

"My Wood-Mizer narrow band sawmills enjoys a 2-3mm kerf, the smallest available for round log conversion.

"Broadly speaking, such a narrow band sawmill will achieve approximately 0.68m3 sawn production from a 61cm x 3m log, compared with about 0.43m3".


The Wood-Mizer LT15 is operated for about 56 hours a week, the equivalent of 122 working days a year. It uses general purpose 'DoubleHard' band blades, manufactured and sharpened by Wood-Mizer (ten blades twice a year).

A recent example of his product is a log home built in sections at his 'works' in Ayrshire and will be delivered to a site at Ascot for assembly and erection shortly. This is followed by a home made of 300mm-diameter logs for a customer in the Highlands. In turn, this order is to be followed by log cabin-style staff accommodation for a client in Argyll plus twelve holiday cabins for letting purposes for the same client.

Michael Dutton has only been operating for two years as a limited company and for a year as a sole trader before that. The 2009 credit crunch seems to have had no effect on his revenues. He explains this with the nature of his 'cabins' and the boost in productivity and margins from the band sawmill.
CONTACT WOOD MIZER

Wood-Mizer Industries
ul. Nagorna 114, 62-600 Kolo, Poland
Tel: +48 63 26 26 000
Fax: +48 63 27 22 327
www.woodmizer.eu
woodmizernews@woodmizer-planet.com

UK +44 1622 813 201
France +33 4 74 84 84 44
Germany +49 5883 988 010
Norway +47 63 874 989
Romania +40 745 707 323
Russia +7 495 788 7235
Asia +65 812 16 910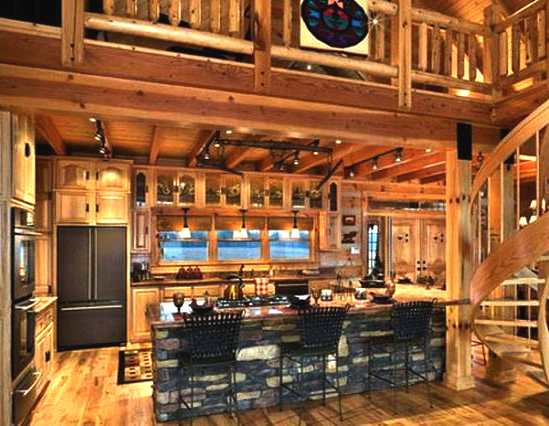 A log house kitchen, making the most of wood


CONSTRUCTION METHODS


* Scandinavian Full-Scribe (also known as the "chinkless method") is naturally-shaped, smoothly-peeled (drawknifed) logs which are scribed and custom-fitted to one another. They are notched where they overlap at the corners, and there are several ways to notch the logs.

* In the flat-on-flat method, logs are flattened on the top and bottom and then stacked (usually with butt-and-pass corners).

* Milled log houses are constructed with a tongue-and-groove system which helps align one log to another and creates a system to seal out the elements.

* With the tight-pinned butt and pass method, the logs are not notched or milled in any way. They are in a single course and do not overlap; vertical pairs of logs are fastened with tight, load-bearing steel pins.
SETTLING IN

Once fabricated and assembled, the shell of the log house may be disassembled and the parts shipped to the building site. This allows for centralized manufacturing of the house, and relatively quick construction on site. Full-scribe-fit handcrafted log construction is a method of precisely marking where to cut each individual wall log to provide a tight fit between naturally-shaped logs along their entire length and in the corners. A high degree of craftsmanship is required for success in this method, and the resulting tight fit of naturally-shaped logs have aesthetic appeal.

Log houses which settle require slip joints over all window and door openings, adjustable jacks under vertical elements (such as columns and staircases) which must periodically be adjusted as the building settles, allowances in plumbing, wiring, and ducting runs, and fasteners for the walls themselves to prevent uplift.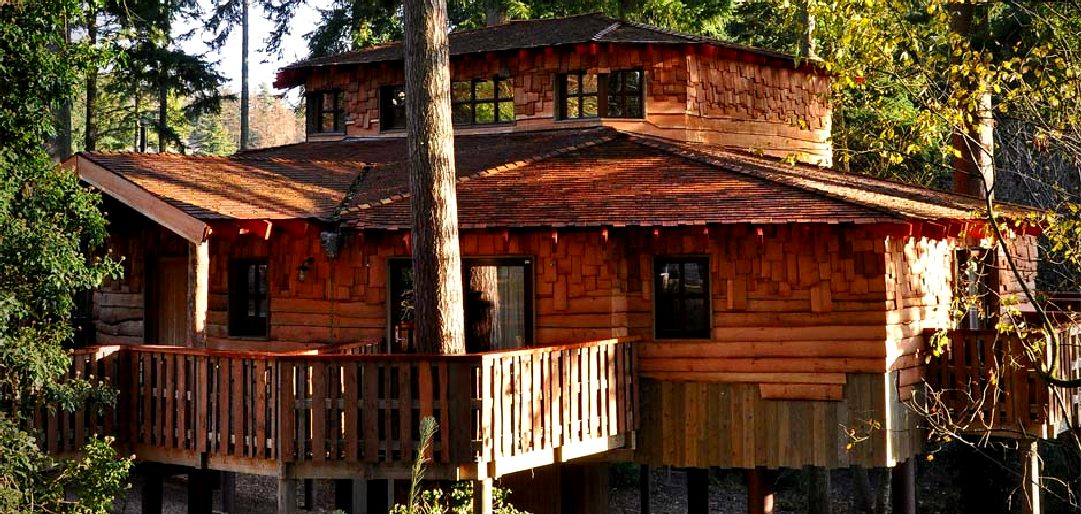 CENTRE PARKS - Not so much a tree house as a two-storey house built on stilts surrounded by trees. However you look at it, it's a great way to escape from civilization for a while, complete with a hot tub and play den. But why bother with TV? When you are playing Tarzan and Jane - you should do it properly. Yabadabadooo.
THE SUN 20 JANUARY 2017

RECLAIMED BY NATURE Haunting pictures show log cabins once home to wealthy holidaymakers left to rot after forest village was turned into ghost town 30 years ago.

THESE spooky photographs reveal the rotting remains of an abandoned resort town where the wealthy once built luxurious holiday cabins.

They were taken at Elkmont in The Great Smoky Mountains, Tennessee, which was abandoned over thirty years ago.

The resort is a shadow of its former glory as mother nature slowly reclaims the buildings.

One picture shows how an entire roof has caved in on one of the larger buildings, while others show flaking paint, broken windows and rotting floors in the once-proud holiday spot.

The images were taken by an urban explorer known as Abandoned Southeast.

Explorers and photographers who chronicle abandoned places – such as glorious cinemas and once-beloved theme parks – have become increasingly popular.

Abandoned Southeast said: "I heard of this place several years ago when an internet article went viral about a hiker discovering a ghost town.

"This is a decaying resort town that was abandoned in the early 1990s.

"In 1992, the National Park Service refused to renew the lifetime leases of the cabin owners which forced them out. The NPS wanted to remove the cabins and restore the land back to nature."

Elkmont was initially a lumber town and wealthy families from Tennessee and North Carolina started to build holiday cottages and chalets. The owners gave parts of the town names like 'Millionaire's Row' or 'Society Hill'.

Compared to the rustic cabins of the lumber workers, these cottages were mansions in their day. There are 47-buildings standing in the town today.

Until recently, locals thought the town was lost to a series of wildfires.

"I want people to know this town was not harmed by the Gatlinburg wild fires and is very much intact," added Abandoned Southeast.

"The Park Service asks visitors to not go inside the cabins. Some are partially collapsed or have rotting floors.

"When I show people my images they are often amazed at how beautiful a derelict cabin can be."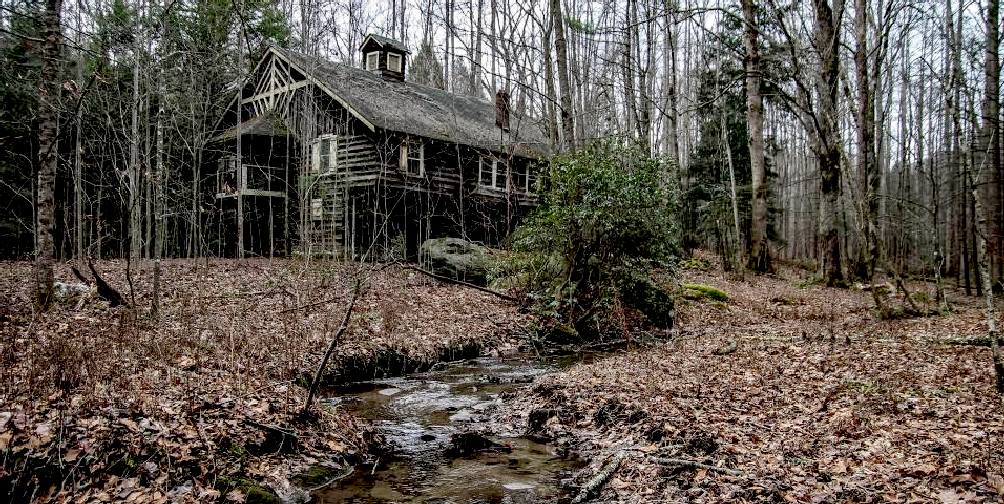 GHOST TOWN - This American timber dream house is now nothing more than a rotting memory.
INDEPENDENT IRISH NEWS MAY 2016 - Could these €30,000 family log cabins help solve Ireland's housing crisis?
These affordable log cabins could be the answer to Ireland's housing crisis, providing family homes from as low as €30,000.

An innovative businessman believes he can help minimise the housing issue - and maintains he can build the fully functioning homes in just ten weeks.

While a €30,000 log cabin (measuring 5x7 metres) could provide two bedrooms, a living room and a bathroom, a €70,000 abode (measuring 7x10 metres) could offer three bedrooms, a kitchen, a living room, a dining room and a bathroom.

The cabins come in all sizes up to a maximum of €100,000 - substantially less than modular homes built in north Dublin for €243,000 each.
"They are easy to maintain as they only need to be stained every five years," said owner of Coppola Cabins, Harry Laanisto.

The price includes the cabin and electrical wiring but water and furnishing is up to the owner, according to the Estonian entrepreneur.

"Our smaller cabins are popular for offices, playrooms and home bars. Today I had five couples already looking at the cabins and on Saturdays we have queues," he said.

The company has seen some growth over the past year as people have more disposable income after the recession.

"This year is slightly better than last year. I've noticed cabins sales have picked up."

Although the cabins are entirely made of wood, Laanisto said that they aren't a fire hazard. "It would last longer if there was a fire than a normal house because of the thickness of the wood."

The cabins are made from Strauss wood which is imported from Estonia.

"[The cabins] are quite popular in Estonia and all over the world including Japan. Our supplier sells to 40 countries. They're available in cities, the countryside, everywhere. So that was my idea, why not do it here?"
Dublin County Council has yet to grant planning permission for the wood cabins in the city, but permission has been granted in the countryside.

"I don't understand the planning permission because I think it could quite easily solve the problem of housing because cabins are affordable," said Laanisto.

"People want to use these cabins for living but planning permission is the issue.

"I had a customer who wanted to build one in a caravan park at a lake in Cavan and the county council said that log cabins are not suitable for lakesides. It's ideal beside lakes."

A spokesperson for Dublin City council said: "The City Council is required to procure the construction of housing units by public open tender. Any such tender process sets out the standard and specification of the units required and other qualification criteria. It is open to companies who can meet the standard, specification and criteria to tender."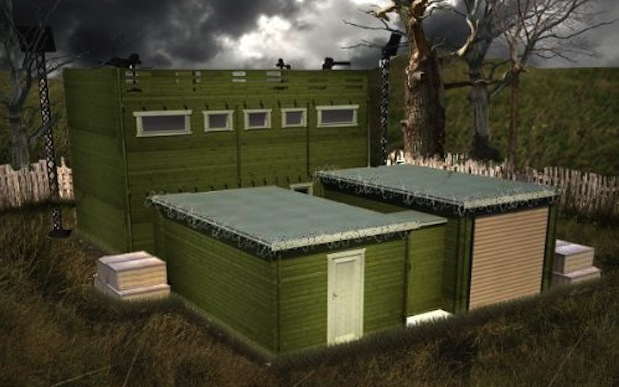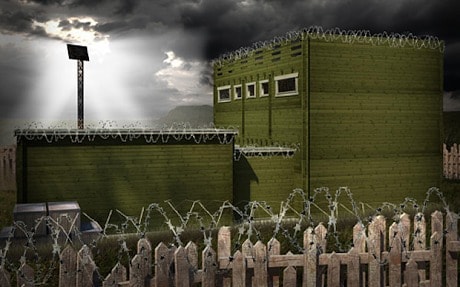 ZOMBIE PROOF - Hardly the look most people are after and presumably an artists impression, but one day the barbed wire approach to privacy may be the norm if planet earth becomes overcrowded with more than 9 billion people.
THE TELEGRAPH 20 OCT 2014 - BRITISH COMPANY SELLS A 'ZOMBIE PROOF' LOG CABIN
Survival can be yours for £69,995 – with free delivery and a '10-year anti-zombie guarantee'

If the prospect of a zombie apocalypse weighs heavy on your mind, British firm Tiger Log Cabins have just the product.

The firm are advertising 'the world's first' zombie-proof log cabin – designed to withstand the bloodiest of zombie attacks.

The ZFC-1, or 'Zombie Fortification Cabin' in full, comes complete with a 10-year anti-zombie guarantee which promises to be strong and secure enough to stop any walking dead from getting inside.

It also boasts a barbed wire surround, an escape hatch, a storage unit to stow your chosen weaponry and a 360-degree vantage point to keep a close eye on impending zombie attackers.

Sold with the strapline 'Get yours, before they get you!' the cabin comes with a price tag of £69,995. VAT and delivery are included, but installation will set you back a further £12,995.00.

Prospective purchasers also have the option of buying add-ons, including a flame thrower (price on application), security cameras (£1,795.00) and a riot protection outfit (£2,495.00).

If you're suspicious this product may not be entirely legitimate, the guarantee small print probably won't help to convince you. It reads: "Please note - we require medical evidence of the presence of a real zombie should you wish to claim under the 10 year anti zombie guarantee".

Whether or not the company would actually honour an order for the zombie cabin remains to be seen, but there are already a number of reviews on their website from happy customers - and a disgruntled zombie.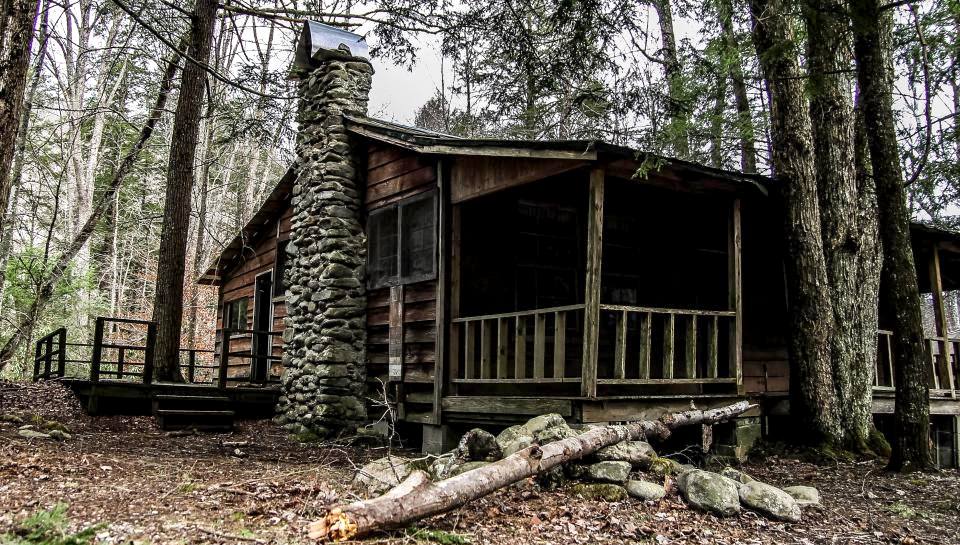 HAUNTING STUFF - Reminiscent of the settlers who populated the American wilderness and made it what it is today. We should never forget our roots.
THE TELEGRAPH 29 JANUARY 2011- LOGGING ON, BRITAIN'S TOP TEN CUTEST LOG CABINS
1. The Lodge, Eden Hall, Penrith, Cumbria

All log cabins should, of course, be set in vast sweeps of Canadian wilderness with a river on which grizzlies fish for salmon. You'll have to supply your own bears here but everything else – from the cabin's lonely setting on the wooded banks of the river Eamont to the salmon in the river itself – is 100% wild. The Lodge comes with a wrought-iron spiral staircase, a woodburner and a veranda from which to watch passing deer. Go before the end of March and pick-ups (from Penrith Station) and bikes are thrown in free.

• The Lodge (sleeps four) from £975 a week; canopyandstars.co.uk


2. Shank Wood, Longtown, Cumbria

Handcrafted by a local farmer from sitka spruce from the nearby Kielder Forest, the Shank Wood log cabin is an idyllic escape if you want to put up a "Gone Fishing" sign. This basic-but-beautiful fishing hideaway is set in a completely private spot in 140 acres of ancient woodland, close to the banks of the river Lyne, where wild brown and sea trout will taunt you. Luckily there are supplies available from the butcher in Brampton and Carlisle is nearby. The cabin has no running water, the loo is outside, and lighting is solar powered, but there's a toasty woodburner, a sun terrace and two mattresses on the mezzanine.
• Shank Wood (sleeps four) from £90 per night; 01228 791 801, fishinghideaway.co.uk


3. Lodges at Coombe Mill, St Breward, Bodmin, Cornwall

Got small children? Roll right up. This working farm on the river Camel has four Scandinavian lodges – including the newly built eco-friendly Trebah – and is chocka with "child-friendly animals" including deer, miniature donkeys and wabbits. There are daily tractor rides, 30 acres of woodland, meadows and gardens to romp around in, plus outdoor and indoor play areas. Oh, and something for adults too – sleek furniture, luxury fixtures and Egyptian cotton sheets.

• Trebah (sleeps four – other cabins sleep seven) from £325 a week; 01208 850344, coombemill.com


4. Hoe Grange, Brassington, Derbyshire

Veering more towards the shed end of the log cabin world – which should please a lot of men of a certain age – this award-winning farm's fourth and most recent addition, Daisybank, opens next month. Stay indoors (the central heating is from a ground-source pump) and enjoy the views of the Peak District, or walk, cycle or ride the eight-mile Hoe Grange Time Travellers Trail. Book Daisybank's opening week (18-25 February) and you'll get a free bottle of champagne. Corking!

• Daisybank (sleeps six) from £445 (10% discount for those arriving on foot/bicycle/public transport); 01629 540262, hoegrangeholidays.co.uk


5. Greenway Lodge, Kilve, Somerset

Taking the concept of the log cabin to its most luxurious extreme, Greenway Lodge is packed with the most mod of mod cons (it's worth going just to find out what an "inskirator hot-tap" is). Perched on the Quantock Hills, it has views from the garden across the fields and over the Bristol Channel – you'll be desperately thumbing through your thesaurus for synonyms for "gosh". There's a beach a mile-and-a-half away and a village pub up the road.

• Greenway Lodge (sleeps six) from £425 a week; 01237 426796, holidaycottages.co.uk


6. Maengwynedd Log Cabins, Llanrhaeadr ym Mochnant, Powys

The Berwyn Mountains are lovely – everyone who knows keeps schtum so the crowds head for Snowdonia instead. At Maengwynedd, high up in the Berwyns, there are three cabins complete with hot tubs, oak and pine furniture, Wi-Fi (just say no!) and glorious views. The owners can also book you some mountain biking, hiking and white-water rafting with a local company, so there's really no excuse not to get out and about. But remember: this conversation never happened.

• Maengwynedd Log Cabins (each sleeps six) from £380; 01691 780388, maengwyneddlogcabins.co.uk


7. Dwr Dy Felin Log Cabins, Carno, Powys

Handcrafted from European silver pine, these three log cabins – complete with cute balconies – really look the part. Set in a secluded corner of a working farm, they have a smart, boutique-y feel. Fans of greenness will be pleased with the sustainable heating set-up that also powers the hot tub. The area is teeming with footpaths and mountain bike trails. And when you get back, you can scrub up in one of three bathrooms before ordering a massage. Mmmm.

• Ty Afal, Ty Ceirios & Ty Peren (each sleeps six) from £490 a week; 07543 380048, dwryfelin.co.uk


8. Milk Wood Lodge & Wnion Wood, Dolgellau, Gwynedd

Towards the southern end of Snowdonia national park, and a few miles east of the market town of Dolgellau, the Wnion Valley is home to two remote and rather lush wood cabins with mighty stone chimneys. If you can tear yourself away from the sauna, Jacuzzi and hot tub, the popular Cadair Idris mountain is just three miles away, while one of Britain's most spectacular riverside paths, the Torrent Walk, is even closer. February will see the opening of a third cabin, Dumbledore, which, given its name, should be magic.

• Milk Wood Lodge, Wnion Wood and Dumbledore (each sleeps four) from £420 a week; 01341 450643, holidaylettings.co.uk


9. Rodel Valley, Isle of Harris, Western Isles

Proof at last that the Tardis also comes in log cabin form. This lodge in a tiny crofting village seems small but is packed with every luxury going. Modern gizmos abound (iPod-compatible stereo, ma'am?), while the bathroom is something else: remote control steam shower, Jacuzzi and, of course, a sauna. A second cabin opens from April and, unlike the first, will accept pets so you can let your dog take you for gloriously long walks.

• Cabins (sleep four, with cot provided on request) from £550 a week (or £90 a night); 01859 520465, rodelvalley.com


10. Cairnty Lodges, Mulben, Moray

There's something unmistakably Heidi-esque about Red Squirrel and her brand new sister Roe Deer. Inside, all is swish and very modern – this is not a place for roughing it. Both sport a hot tub and sauna (Roe Deer's arriving in the spring), and are heated by eco-pleasing ground-source pumps and solar panels. There are stoats, ospreys and (real) red squirrels for wildlife fiends, while walkers can head for adventure along the Speyside Way. The Spey river is famous for its salmon fishing, and there's a malt whisky trail nearby too.

• Cairnty Lodges (sleep four adults and two children) from £380 a week; 01542 860263, logcabins-moray.co.uk


MOTHER EARTH NEWS OCT 1985 - CHOOSING A LOG HOME KIT
Choosing a log home kit. Log homes are attractive, versatile and relatively energy-efficient and range from summer-cottage-simple to palatial. Here's your guide to finding the best one for your needs and budget.

Log homes are attractive, versatile, and relatively energy, efficient, and they range from summer-cottage-simple to palatial. You can own one for far less than an equivalent "standard" dwelling . . . even if you don't have the time or skills to start with a chain saw and a stand of trees. But to get the best deal, you have to understand the many options available when choosing a log home kit.

With the price of the average new home in America soaring over the $100,000 mark in 1985, more and more people are entering the ranks of owner-builders in their search for affordable housing. Of course, constructing a home from the ground up requires talents and time that most of us simply don't have. A kit log home, on the other hand, allows its owner to participate in the building to whatever extent he or she is able, and to effectively save money with every job tackled.

However, to really get the most from your investment when purchasing a log home kit, it's best to put in some effort before construction begins. By looking into the many types of packages available, and knowing which features will be best fitted to your budget, needs, and skills, you can soon be sleeping in your dream home without suffering the nightmare of an unbearable mortgage.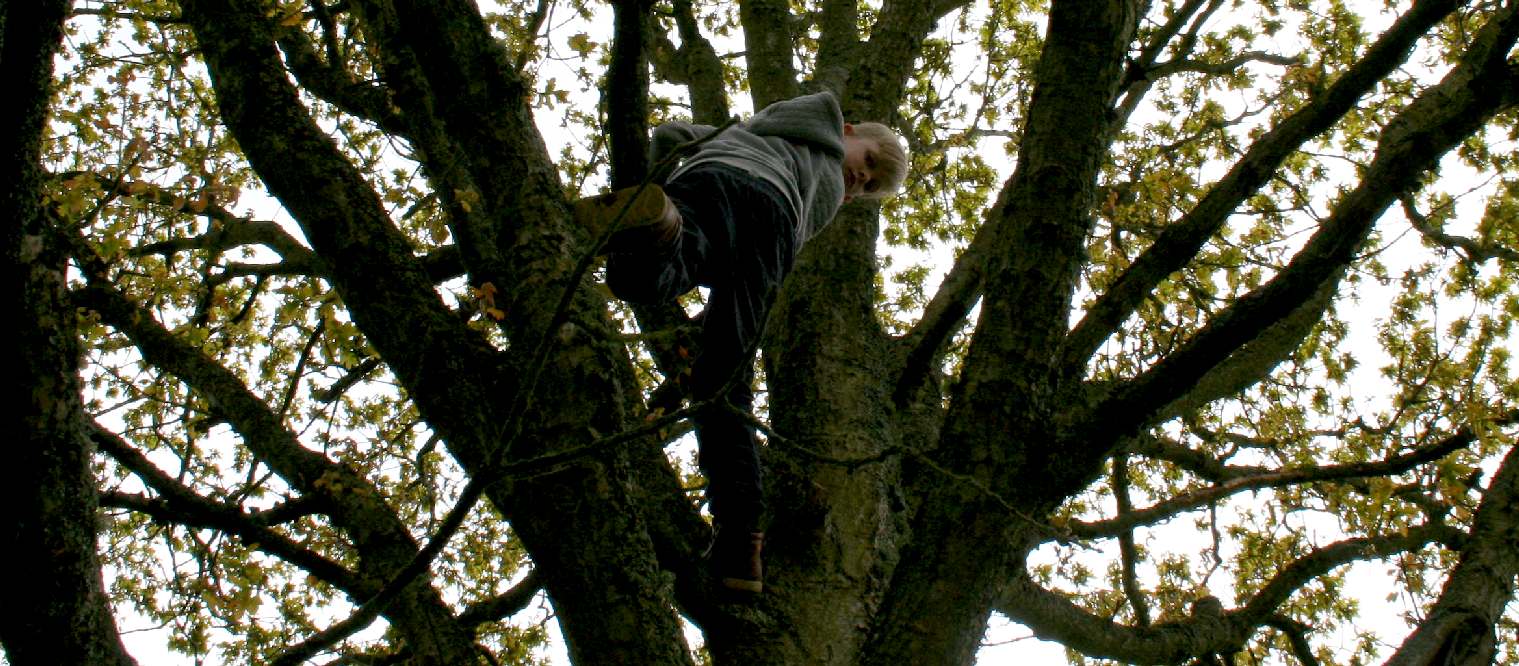 Log Home Woods and Preservatives

The first choice you'll encounter when "shopping" through the free brochures offered by most log home kit manufacturers is the type of wood that'll make up the walls of your home-to-be. Pine, cedar, cypress, and aspen (among others) are all available . . . and, in the opinion of Ken Myer of American Lincoln Homes (which offers several varieties of wood), cedar is the Cadillac of log home materials. "Cedar is naturally insect-repellent," Ken points out, "and more resistant to internal decay and shrinkage than pine." On the other hand, depending upon the total wall space involved, a cedar home kit can be from $1,000 to $10,000 more expensive than its pine counterpart.

Of course, shrinkage shouldn't threaten the structural integrity of a well-designed log home, but it can necessitate early recaulking. In attempting to eliminate this problem, manufacturers of non-cedar kits turn to careful drying and—in some cases—to modern wood preservatives.

Rocky Mountain Log Homes and Yellowstone Log Homes both tackle the problem by cutting their lodgepole pine from standing deadwood. Such timbers have experienced much of their shrinking and warping before being harvested, and are therefore quite stable. Many kit manufacturers in the eastern states accomplish pretty much the same goal by air- or kiln-drying their logs to a specified moisture content before delivery.

Of course, those well-dried logs can be made even more durable if they're coated with a wood preservative. And many authorities feel that in wetter parts of the country, such as the Pacific Northwest, the use of a preservative is absolutely necessary.

Choosing a Log Home Kit

Choosing a log home kit. Log homes are attractive, versatile and relatively energy-efficient and range from summer-cottage-simple to palatial. Here's your guide to finding the best one for your needs and budget.

Most log home kit companies will send, at your request, material describing the different kits available, and many of these booklets contain a toll-free number that can be used to ask follow-up questions of a representative of the company. In order to understand the information you'll receive, though, you'll need to know exactly what's provided in the three types of home kits most commonly available.

[1] Walls only. The most rudimentary—and thus least expensive—log home kits consist of nothing more than the pre-shaped logs required to build the walls. These low-priced packages can look pretty attractive (at the time of this writing, Yellowstone Log Homes has a number of kits for homes of 1,000 square feet or more in the $3,000 range), but be sure to figure in the cost of all the materials you'll have to buy on the side!

[2] Structural shell. Perhaps the most common log home package, the structural shell typically consists of walls, roof, rafters, and beams. These kits are also reasonably priced (and also require a considerable "over and above" investment before they're turned into livable homes); they're generally sold to contractors and serious owner-builders.

[3] "Complete" homes. Many log home manufacturers now offer complete kits, which include (usually) all of the materials necessary to erect a weathertight shell. The lists of items supplied do vary from one manufacturer to another, though, so be sure you've done adequate research before you buy. (Complete packages might not include spikes, floors, or the picturesque porches lovingly sketched in the artists' renderings.) It's best to remember that anything not specifically mentioned in the materials list is probably a priced-extra option.

Regardless of which package you decide upon, don't be afraid to bargain. It never hurts, for instance, to let the companies you're negotiating with know what their competitors are offering. Sometimes a firm will drop its price to match a low bid, or work out another incentive (an option thrown in at no cost, for instance) in order to make the sale. In my inquiries, I found only one manufacturer that refused to budge from its printed price.

Of the chemicals traditionally used to seal wood, two—pentachlorophenol (penta) and creosote—have recently been proscribed by the Environmental Protection Agency. You're not likely to find these potentially toxic treatments used on log homes made by reputable manufacturers (although it doesn't hurt to check). Instead, the trend today is toward linseed oil and the milder zinc and copper compounds. And many firms use either no treatment or an exceptionally mild one, but recommend that the owner-builder apply a stronger chemical, such as the copper-based Cuprinol, to the exterior of the house after it's built. (The harsher chemicals, if used on the interior walls, could produce health problems . . . especially in sensitive residents.)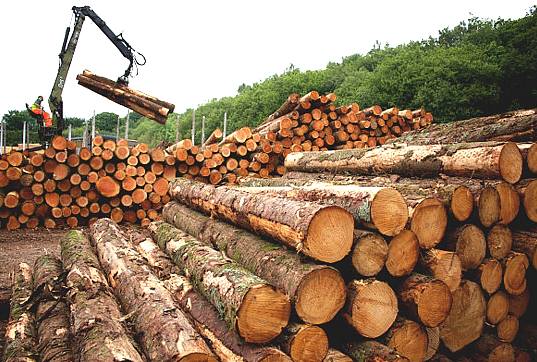 The Forestry Commission in England supports the use of sustainable timber in construction and as a source of renewable energy. This website will allow you to find out more about Forestry Commission projects that use locally grown sustainable timber and about how they promote timber as a renewable and sustainable material. Pre-historic and historic clearance of our woodland led us to a low point at the beginning of the twentieth century when woodland was only 5% of Britain – and falling. It is now nearly 12% - and rising. Through creating this major new asset, we can be sure of handing on to future generations something better than we inherited. As a result of major investments in processing capacity during the last 20 years, the industry has been independently estimated as providing over £7 billion annually to UK GDP, and directly employs some 167,000 people in growing, harvesting and processing trees across the UK.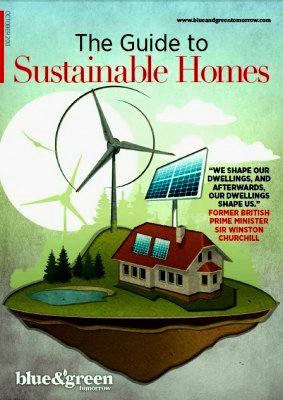 LINKS & REFERENCE
https://www.theguardian.com/travel/2011/jan/29/top-10-log-cabins-scotland-wales-uk
https://www.theguardian.com/travel/2011/jan/29/top-10-log-cabins-scotland-wales-uk
http://www.motherearthnews.com/homesteading-and-livestock/choosing-a-log-home-kit-zmaz85sozgoe
http://www.tigersheds.com/log-cabins/
www.tigerlogcabins.com
http://www.telegraph.co.uk/news/newstopics/howaboutthat/11175497/British-company-sells-zombie-proof-log-cabin.html
https://www.architectural-review.com/
https://www.tripadvisor.com/VacationRentals-g49294-Reviews-Linville_North_Carolina-Vacation_Rentals.html
https://twitter.com/Independent_ie
http://www.independent.ie/irish-news/news/could-these-30000-family-log-cabins-help-solve-irelands-housing-crisis-34719811.html
https://dunsterhouse.co.uk/log-cabins
http://canadianloghomes.com/blog/2016/02/03/pioneer-log-homes/
https://www.quick-garden.co.uk/blog/cities-countries-regions-highest-density-log-cabins-homes-lodges-resorts/
https://www.simplylogcabins.co.uk/
http://www.scandinavianloghomes.co.uk/
http://www.finlog.co.uk/log-houses.php
http://www.loghomescotland.co.uk/
http://www.norwegianlog.co.uk/residential-log-cabins
http://www.finnishloghomes.co.uk/
http://www.britishlogcabins.com/
http://www.woodmizer-planet.com/index.pl?act=PRODUCT&id=193
http://www.interface-online.org.uk/case-studies/tsarina-imperial-dacha
http://www.tsarina-imperial-dacha.com./
Sunday Post news UK energy device could generate big savings
https://www.sundaypost.com/news/uk-news/energy-device-could-generate-big-savings/
Wood-mizer planet tools kerf band saw
Interface online case studies Tsarina Imperial Dacha
The Sun haunting-pictures-luxury-log-cabins-left-to-rot-woodland-resort-in-tennessee-turned-into-ghost-town-30-years-ago
http://en.wikipedia.org/wiki/Log_cabin
http://en.wikipedia.org/wiki/Log_house
UK Forest Products Association
Scottish Sustainable Construction Forum
Passivhaus Trust- UK Passive House Organisation
The Timber Research and Development Association
Sustainable construction materials
QUNGDAO ENLIGHTENING ELECTROMECHANICAL CO LTD
A leading plywood and wooden pallet factory from china with a good reputation in Europe, America and Asia. QEE manufacture all kinds of all kinds of wooden pallet. Okoume plywood, Plywood for furniture usage, 1220 x 2440mm (all size) best quality plywood sheet, Packing Plywood .

Phone: 86-18706484327

Email: magicx1234@gmail.com
http://qdlanting.en.alibaba.com
Contact Us www.cherrymortgages.com