| | |
| --- | --- |
| | |
| . | . |
| Our homes are available in different formats - this is an example of a mobile home, self-build in cedar. To qualify as a mobile home the units have to be transportable in two parts. There are advantages to having a smaller home, such as reduced airspace to heat. Transportability can also be useful. This example does not have a solar conservatory. We recommend that each home owner should fit an energy harvesting combination at the build stage. This keeps costs down. Retro-fitting is expensive. | Our homes are available in different styles - this is a sustainable timber unit with two stories, and please note that these examples do not include solar heating or photovoltaic panels. They are included so that potential applicants can see what sustainable houses look like. We hope you may agree that timber buildings can be very attractive. |
Application for planning consents from SHS group areas will be pursued via these limited companies.
For administration purposes, each application will be stand alone and decided on its own merits. A data base of sustainable case precedents will thus be generated which the group may share and benefit from.
EAHA - EASTBOURNE AFFORDABLE HOUSING ASSOCIATION
From 2014, a group of Eastbourne residents are forming a local affordable housing association. Eastbornians and those living in close proximity in the Sussex area are invited to join this Society. Membership is open to any person or family who does not own his home and wants to escape high rents that he may be currently paying, but cannot do so because there is no genuinely affordable housing in the Eastbourne area.
WHAT DO YOU GET?
The plot that is allocated to each member is approximately 900m2. That can be in an oblong or a square shape, examples of which you can see below show as an individual plot and below that arranged in a street formation - by way of examples such as to compare with other housing development.
The footprint of an 18.4 x 6 meter (60 x 20ft) home is shown in brown. In practice the shape of plot will be dictated by the service roads and alignment with the sun. These plots are exceptionally generous, and for this reason no infill will be allowed - to preserve the amenity (tranquility) for neighbors in perpetuity. The position of your home on your plot is a matter of individual taste, though some kind of order is preferred for the supply of services. The reason for a street pattern is because of the cost of putting in a service road.
30x30 meter regular plots in a street formation (left) and 40x22.5 meter plots in a street formation (right).

Whatever format is adopted, the development needs roads and other services.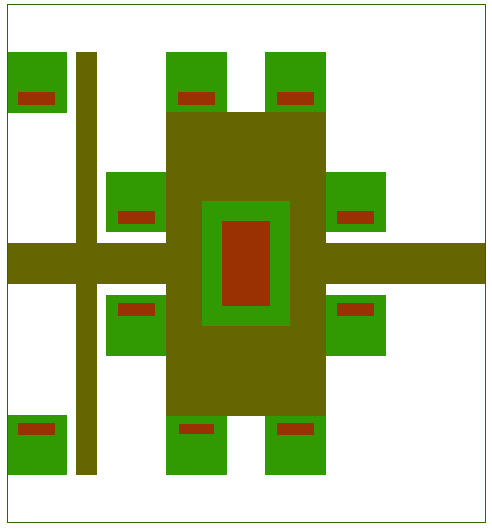 A 10 plot development (example) layout based on a 12 acre site. The development includes access roads shown in brown, and a central village type store. The houses in red are south facing. There is room with this layout for additional social housing as may serve the community. Compare this spacious Utopian layout with the 100 home development village on the same 12 acre site.
THE COMMUNITY
Apart from getting their own plot freehold, members benefit from roads and other services, to include whatever local shop(s) might be included. That this eats into the available land is unavoidable. Without access roads, pavements and space for trees, etc, the development would not provide the 'Utopian' setting that we are aiming for. Our planner(s) will be doing their best to avoid the typical British streets (housing estates) that herd people into unnatural confinement.
BUSINESS MODEL
As with any building society, the members will be shareholders in the society. Essentially the society is non-profit making, but the rules governing the society are designed to benefit members in a variety of ways, to spread the vision that this group want to share with other like minded people - and to help them aspire to their dream of low cost, low carbon living.
Please use the contact information here to learn more......