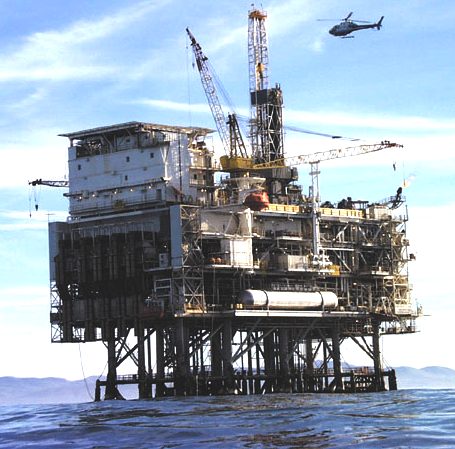 A typical offshore oil rig supplying messy polluting energy for transport and heating. The effort expended drilling for oil is several thousand times that exploring the use of renewables in action for affordable communities.
WHERE DOES OUR ENERGY COME FROM?
In 2011, energy consumption in the domestic sector was 38,842 thousand tonnes of oil equivalent. This was 5 per cent higher than in 1970, but 5 per cent lower than in 1990 and 20 per cent lower than in 2010. The sharp fall between 2010 and 2011 is a combination of an unusually high level of consumption in 2010 - largely driven by colder temperatures, a warmer than usual year in 2011, and the continued rollout of energy efficiency measures in homes. The 2011 figure shows a return to a longer term trend, with energy consumption falling since 2004.

The 5 per cent fall since 1990 is set in the context of an increase of 19 per cent in the number of UK households and a 10 per cent increase in the UK population. At a per household level, energy consumption has fallen by 20 per cent since 1990.

In 2011 domestic consumption was 26 per cent of total UK final consumption of energy products

The fuel mix for domestic consumption has significantly changed since 1970 when 39 per cent of consumption was coal, 24 per cent natural gas and 18 per cent electricity; this changed to 8 per cent coal, 63 per cent gas and 20 per cent electricity in 1990; and to 1 per cent coal, 65 per cent natural gas and 25 per cent electricity in 2011.
WHAT DO WE USE ENERGY FOR?

The majority of energy consumed in the domestic sector is for space heating which in 2011 represented 60 per cent of total domestic consumption. Water heating and lighting and appliances accounted for a further 18 and 19 per cent respectively with cooking accounting for a further 3 per cent.

Since 1970, there has been a continued fall in the proportion of energy used for water heating and cooking, and a continued rise in the proportion used for lighting and appliances. Space heating remained the primary use of energy in the home over the whole period.

Compared to 2010, the amount of energy used for water heating, cooking, lighting and appliances in 2011 has not changed significantly, but there has been a large reduction in the amount used for space heating (mainly reflecting the different temperatures observed in these years).


WHAT IS A TONNE OF OIL EQUIVALENT TO?
This is a common unit of measurement which enables different fuels to be compared and aggregated. In other words, you cannot add tonnes to kWh so there is a need for a common unit. A tonne of oil equivalent is a unit of energy, like GJ.
In common with the International Energy Agency and with the Statistical Office of the European Communities, the tonne of oil equivalent is defined as follows:

1 tonne of oil equivalent = 107 kilocalories
= 396.83 therms
= 41.868 Gigajoules (GJ)
= 11,630 Kilowatt hours (kWh
In nearly all of our published information, we will be using Kilowatts as the unit of energy. This is because nearly all of the energy we are suggesting may be harvested is electrical energy for supply to the grid. Whereas, heat energy that is harvested is stored locally for local use.
The mobile home above would have been Utopian, if it had included our RE kit at the build stage. Once built a house costs several times to convert to passive heating, etc, that which might have been included. This unit has no PV or wind generation harvesting equipment.
SMARTER HOUSES
Properly integrated buildings could become the power stations of the future. We are developing our system bottom-up with smart energy management for warmth and power, that our E-Pax units may be integrated as communities, taking into consideration charging facilities for electric vehicles at home and intelligent monitoring of 'Macro' generation, for power sharing. To even think about this, a basic unit needs to be capable of generating and storing electricity and heat.
Whether a small clusters of buildings in a village development, or a major urban town expansion, there is the need to integrate electric vehicles into our society with power sharing and storage. This may be achieved with inter-connected heating and power systems at the single building unit level fed into a community of such units.

We believe that this will be the backbone of modern societies and economies. By developing local infrastructure that
is inter-connected with larger-scale infrastructure using affordable principles, sustainable growth for prosperous families.

Renewable energy may advantage itself of internet technologies to create a distributed energy grid, with individual buildings becoming the power stations of the future, to enable energy trading/sharing.


It is our vision to be able to:-

* Research the enabling technologies that could catalyse buildings in becoming 'the power stations of the future.'

* Develop smart bottom-up systems driven by the need for warmth, power and transport.

* Integrate DC power systems to supply consumer electronics from DC sources without the need for conversion to AC to include integrated charging systems for portable devices.

* Develop energy harvesting and storage systems on a Macro system basis.

* Integrate smart charging and storage facilities for electric and/or hydrogen vehicles.

* In conjunction with the above, develop Information Communication Technology (ICT) as an enabler, for heat and power sharing.

* Develop protocols to enable the trading and sharing of heating and power that such village communities prosper.

* Ensure that our RE Macro developments are prepared for the digital electricity era where appliances can intelligently
communicate with supply networks to automatically manage energy demand.

* Work as a team as part of a broader approach to energy management, waterways and green spaces for heat balancing.
RE-PAX SMART ENERGY STORAGE SYSTEM
Our smart energy/heat store system is the subject of a patent application. No other flatpack house or mobile home includes this technology. Enquiries from Councils considering such integration projects are welcome - especially concerning sharing development risk as part of a consortium.
JOIN IN
Join us in the drive for a green economy. Email or call to register your interest in these exciting sustainable developments for a better Britain.
| | |
| --- | --- |
| * Energy self sufficiency | = sustainable |
| * Low cost | = sustainable |
| * Zero carbon | = sustainable |
| * Social housing | = sustainable |
| * Micro & Macro generation | = sustainable |
| * Modular construction | = sustainable |
| * Flood resistance | = sustainable |
(Prices liable to fluctuation due to volatility of the international timber market)
AFFORDABLE | CLIMATE | DEVELOPERS | ECONOMY | FLOOD | HISTORY
HOMES | LADDER | MORALS | POVERTY | PROPERTY | SLAVERY | SLUMS | WEALTH